Domain & Hosting
It's Siteground all the way!  I tried switching to one of the popular hosting providers often recommended by bloggers and the support was vile. I quickly realized it's so highly-recommended because of how lucrative the affiliate program is. I want to be as transparent as possible: it was not a good experience!
Siteground is personally recommended by WordPress, which definitely says something! They will also migrate up to one free website for you (or you can use the plugin) so you don't have to worry about a tech-mess situation. Start today for less than a cup of coffee! 
New to this blogging thing? See the complete tutorial on how to start a blog here.
Newsletter
Thanks to ConvertKit, I've been able to passively grow my email list with little to no additional effort! Even when I took some time off blogging, my list continued to grow. That's the power of ConvertKit.
Feminine WordPress Themes
Looking to make a splash with a small budget? These feminine WordPress themes are some of the prettiest and budget-friendly out there. If you're just launching your lifestyle business or looking for a refresh without the budget for custom branding, I highly recommend checking out the below.
Styled Stock Photography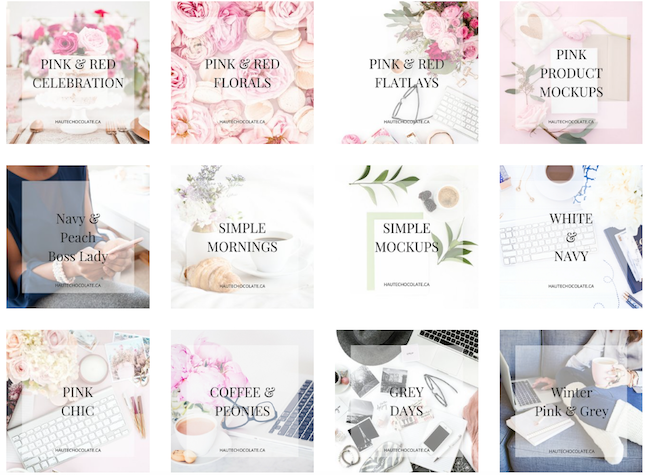 For your social media messages, newsletter, website or shop announcements, a great collection of styled stock photos is an absolute must. These are just a few of my favorite shops full of beautiful, girly desktops, flat lays and displays for showing off your pretty products. Not sure how to use styled stock photos? Just take a look around my website, a lot of the images you see are styled stock + text overlay! I'll be posting a tutorial soon on the blog. You can also check out this awesome video tutorial.
Social Media Schedulers
Planoly
Thanks to TailWind, I've been able to passively grow my blog and my email list! It makes scheduling on Pinterest a breeze and helps your content go viral thanks to Tailwind Tribes and easy scheduling to group boards.
Best Online Communities for Bloggers & Female Entrepreneurs
 *This page contains affiliate links, which means I receive a small percent of purchases made through these links. All opinions expressed are 100% my own.