How to Create a Productive and Efficient Workspace
Whether you're just starting your work-from-home journey, or balancing a side hustle, having a productive office that's inspiring is SO key.
It'll help you get out of your creative funk and be more efficient with your time.
There are so many tools out there designed to help bloggers and creatives be more productive, but your home office setup is something that's so often overlooked! And, it shouldn't be.
Here's how to create a productive office space so that when you sit down, you're ready to totally rock it.
Keep Your Home Office Clean and Tidy
The No. 1 thing that can be hindering your productivity is a messy home office.
In fact, a study done by the National Association of Professional Organizers found that clutter can lead to financial loss as much as 10 percent of a manager's salary!
When my office is cluttered, I can't focus. How can you stay on task if you have piles of paper, sticky notes, books and planners all over the place?
Erin from Pick the Brain says:
"A cluttered desk or office can negatively affect your mood, resilience, and ability to work productively, and disorder creates stress which can cause low moods."
The best gift you can give yourself is to try to keep your home office a clean and tidy space.
And if you're a creative, well, I know how challenging this can be. Creatives tend to be much messier, so it's something we need to work on!
Here's how to fix it:
Spend five minutes each night tidying up for your workspace before bed.
Don't start filing, just make neat stacks so the first thing you see is a clear desk.
Designate one day a week to tackle your clutter and keep it manageable.
RELATED: The Ultimate List of Blog Tools I Use
Decorate Your Home Office With Intention and Inspiration
As creatives, we need to be inspired. And if your office and surroundings are uninspiring, well, it can be easy to get into a funk!
Decorate your space with intention and inspiration; choose pretty papers, beautiful objects and art that you love.
It's ok to be a little frivolous about this, a pretty space is something you'll look forward to using every day. I've found a lot of my home office decor at my local Home Goods for a great price!
If you don't have a dedicated office space, you can still make your corner yours with little things you love like:
Pretty stationary
Paper planners
A small desk plant
Framed art you love
Crystals
Candles
No matter the size you're working with, a pretty place you look forward to will help you have more productive office time.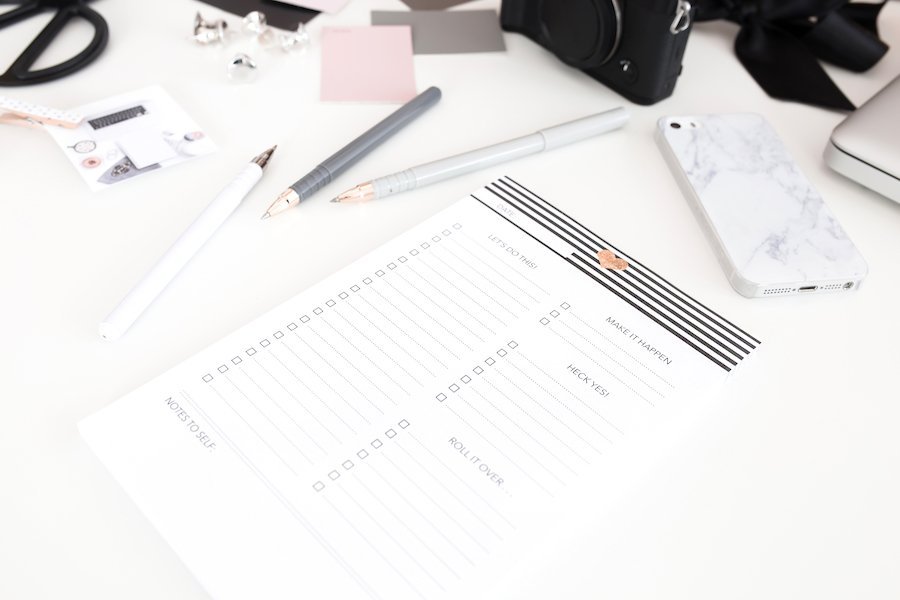 Get Yourself a Planner You Love

Whether you're a digital girl or a paper planner person, everyone should have a notebook on their desk they love.
The fact of the matter is, we oftentimes need to jot something down and a million sticky notes everywhere isn't the most efficient tool.
RELATED: The Best Free Printable Blog Planners
Keeping a pretty planner on your desk also encourages you to use it! I use this free blog planner, which I then insert into a Happy Planner along with a Day Designer for my daily to-dos.
Encourage Brain Breaks By Integrating Them Into Your Environment
If you're a full-timer, it may be a decent idea to bring some hobbies into your office space to encourage brain breaks.
It may sound counterintuitive to bring in "distractions" but breaks here and there help you be more productive! Not to mention, reduce stress, prevent burnout and improve your physical and mental health.
I keep a yoga mat in my closet and take breaks to stretch throughout the day or when I need a breather. Having the yoga mat right there encourages me to use it more often and, in the long run, helps me be more productive since it helps prevent stress and anxiety.
I also have my Sonos player in my office to stream music and listen to my favorite podcasts.
Some other personal items you can bring into your space may include an essential oil diffuser, your favorite candle or an under-desk elliptical machine.
Taking brain breaks is so necessary, so have some items nearby that help you relax.

RELATED: How to Batch Your Blogging Tasks for Maximum Productivity
Add a Personal Touch with Mementos
Just because it's your home office doesn't mean you can't be surrounded by those you love!
Add a personal touch with mementos of things you love or framed photos of your family and friends.
This small thing can make a total difference in how you feel about your home office space, and make you love it even more!
Stock Up On Snacks
When you're working from home…the kitchen just seems to call. It's a great distraction, especially for those of us who love to procrastinate!
Nip that in the butt by keeping snacks nearby. I always keep something like nuts, Triscuits or, my current favorite, Snap Pea Crisps. And I make sure my water is icy cold all day long in my favorite Yeti cup.
You can even go a step further and get a small personal fridge to store water, drinks and cold snacks.
If you're not well-hydrated or take the time to snack, your energy, and productivity, will plummet. Keeping these things nearby will help you have a far more productive day!
Like this Post? Pin me, please!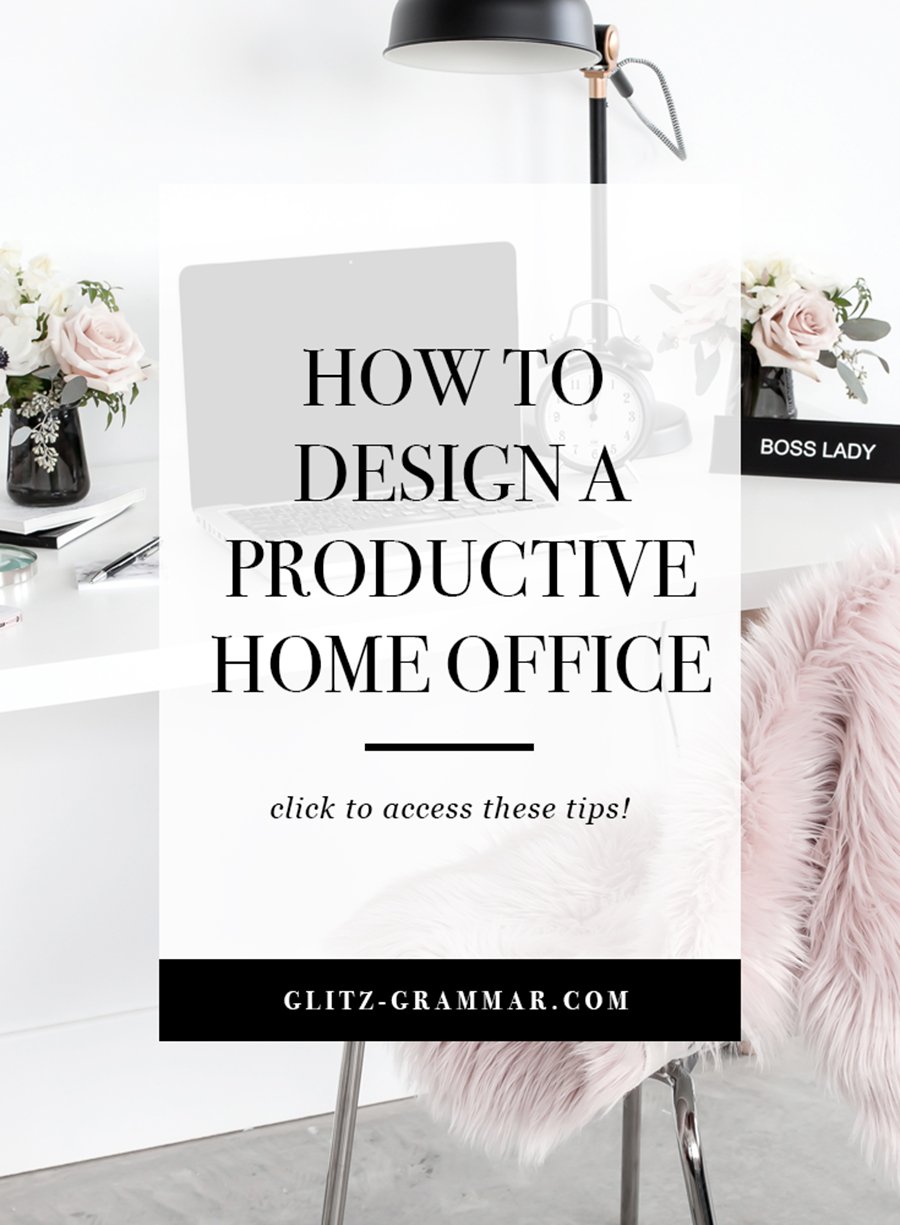 ---
The key to having an efficient home office is all in how you design it! When you design a space you love and that's inspiring, you're more likely to use it and it will help fuel your creativity. Personal mementos, pretty decor, a clean environment, stocked snacks and hobbies that encourage you to take breaks will all help you be more efficient when in your home office.