25 Free Printable Blog Planners to Organize Your Blog Life (Updated for 2021!)
There's a reason they call it "planner peace": finding the perfect planner is SO hard!
And if you're looking to start a blog this year or grow one, it's really necessary to get organized with a great blog planner.
Lucky for you, I've rounded up the best free printable blog planners on the web. These planners are action-packed with pages that will help you get and stay organized and actually grow your blog!
And you don't have to go down a Pinterest rabbit hole looking for them. Here's to blog planner peace in 2020!
25 Best Free Printable Blog Planners
Designer Blogs
My personal favorite free blog planner, and the one I use currently is by Designer Blogs. It's clean, simple and contains almost everything I need in a blog planner. Download it here.
This free printable blog planner comes with pages for tracking your analytics, planning your weekly posts, brainstorming, tracking your finances and affiliate programs and more.
Plus, if you need a specific size, you can upgrade for just $8 and get the planner in any size you want!
I have been personally using this planner for years and it really has pretty much everything I need!
Stray Curls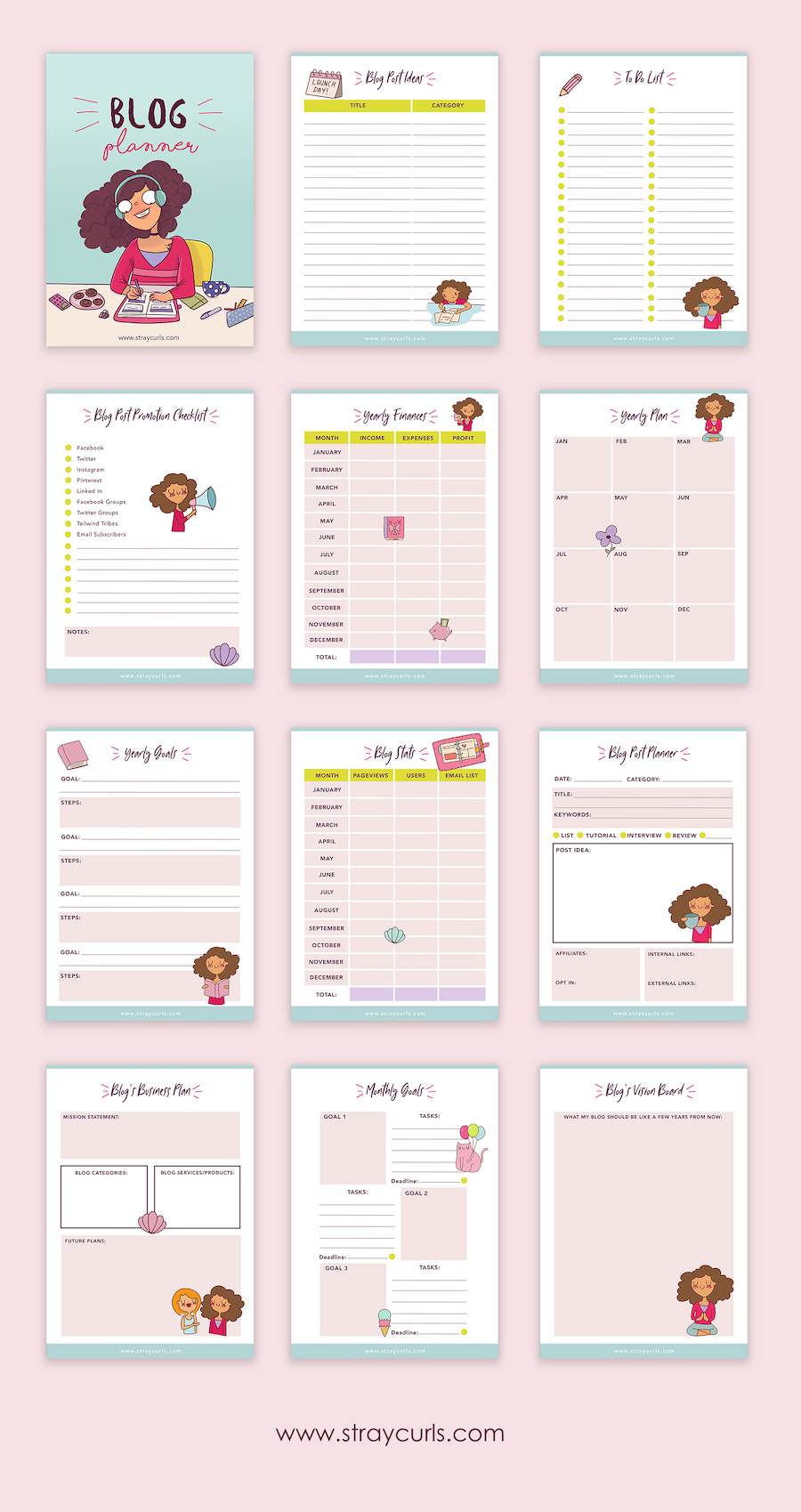 Stray Curls has a beautiful 12-page free blog planner. It is an A4 size and in it you'll find:
Blog Planner Cover Page
Yearly Goals
Monthly Goals
Business Plan
Vision Board
Blog Post Ideas
To Do List
Yearly Plan
Yearly Finances
Blog Stats
Blog Post Planner
Blog Post Promotion Checklist
There is also an upgrade option in this planner to make it 45 pages! Extras include inserts for monthly planning, social media stats, finances and more.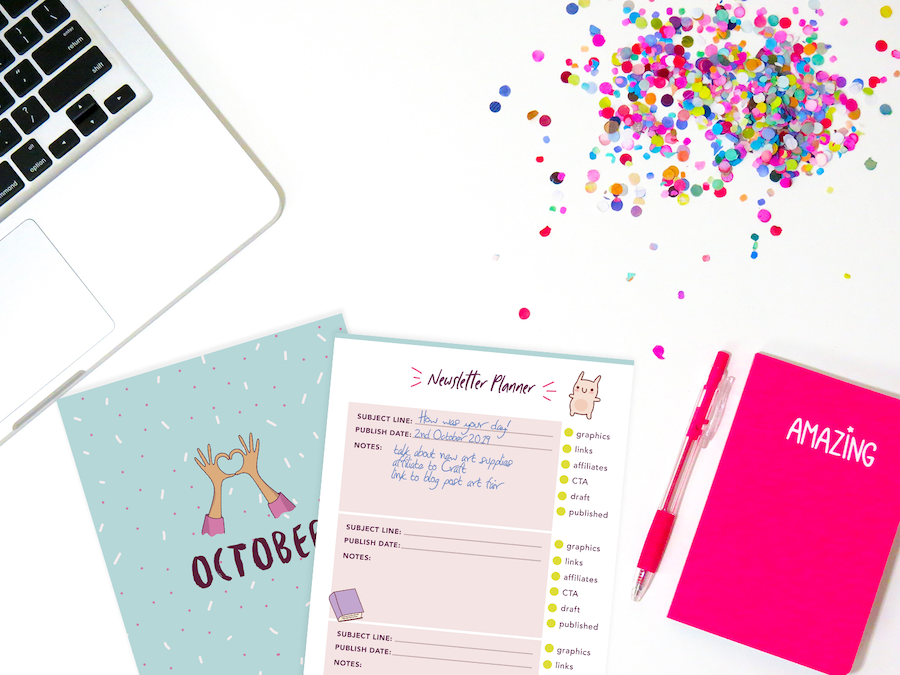 House of Rose
For something bright and cheery, House of Rose has a lovely blog planner. Download it here.
This free printable blog planner has a to-do list reminder, dail and weekly views and more.
---
RELATED: How to Create an Editorial Calendar
---
Start a Mom Blog
More than just a basic blog planner, Suzi from Start a Mom Blog has created one that maps out your first 12 months blogging. It's been downloaded more than 50,000 times!
Tackle tasks on how to set up your blog, grow your traffic, monetize and more. Grab it here.
Confessions of a Homeschooler
Confessions of a Homeschooler puts out a free printable blog planner every year and it's packed with loads of useful pages and vibrant colors. This was actually one of the first blog planners I personally used. Download it here.
[Tweet "23 of the prettiest free printable blog planners ever "]
Georgia Lou Studios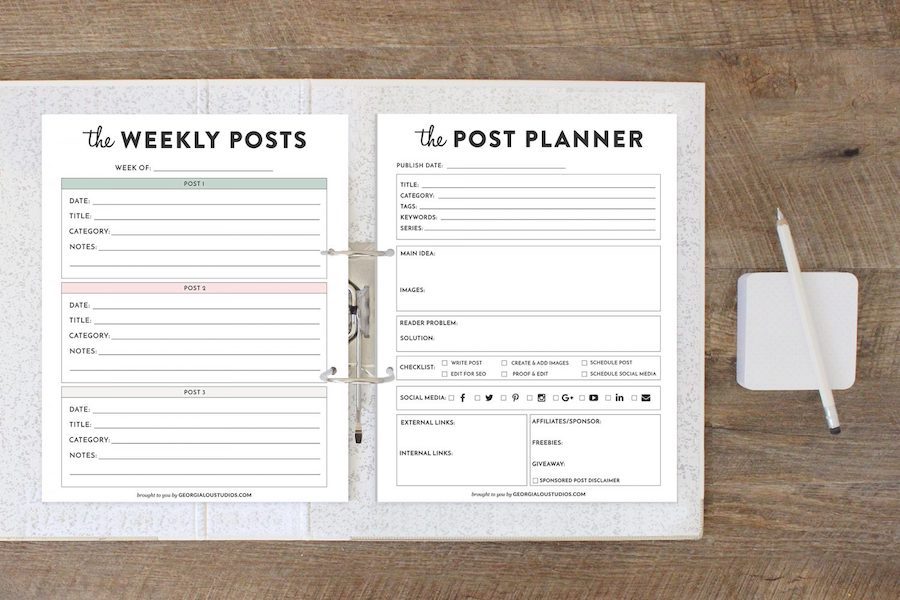 Georgia Lou Studios has a gorgeous free blog planner that comes with a whopping 28 pages!
I love the clean design and how thoughtful it is as it includes pages for :
Planner Cover
Month dividers
Blog Details sheet
Style Guide sheet
Yearly Planner
Monthly Planner
Post Brainstorm Sheet
Monthly Editorial List
Weekly Planner
Weekly Posts Planner
Post Planner
Post SEO Checklist
Series Planner
Daily Planner
Notes Page
To Do Checklist
Want more? Upgrade to unlock even more printable planning pages like a brand Style Guide, monthly dividers, a blog maintenance checklist and so much more (50 pages more, to be exact.) Check it out here.
Elite Blog Academy
Elite Blog Academy's planner includes daily & monthly planning pages, brainstorming pages, a goals worksheet, expense tracker and more. Download it here.
Twins Mommy
If one of your goals for your blog this year is to grow your traffic, then check out Elna Cain's free traffic planner!
This free printable blog planner breaks down tasks you can take on daily, weekly and monthly to grow your blog. Grab it here.
A Well Crafted Party
If you're monetizing your blog, A Well Crafted Party has you covered with worksheets to keep track of collaborations, affiliate programs, sponsors, events and much more. Download it here.
Homeschool Creations
One of the first blog planners I used was from Homeschool Creations. It has tons of blog planner printables and more than 60 pages! Download it here.
The B Bar
The B Bar isn't open anymore, but you can still download their free blog planner here. I love its minimalist design
Entice Blog Planner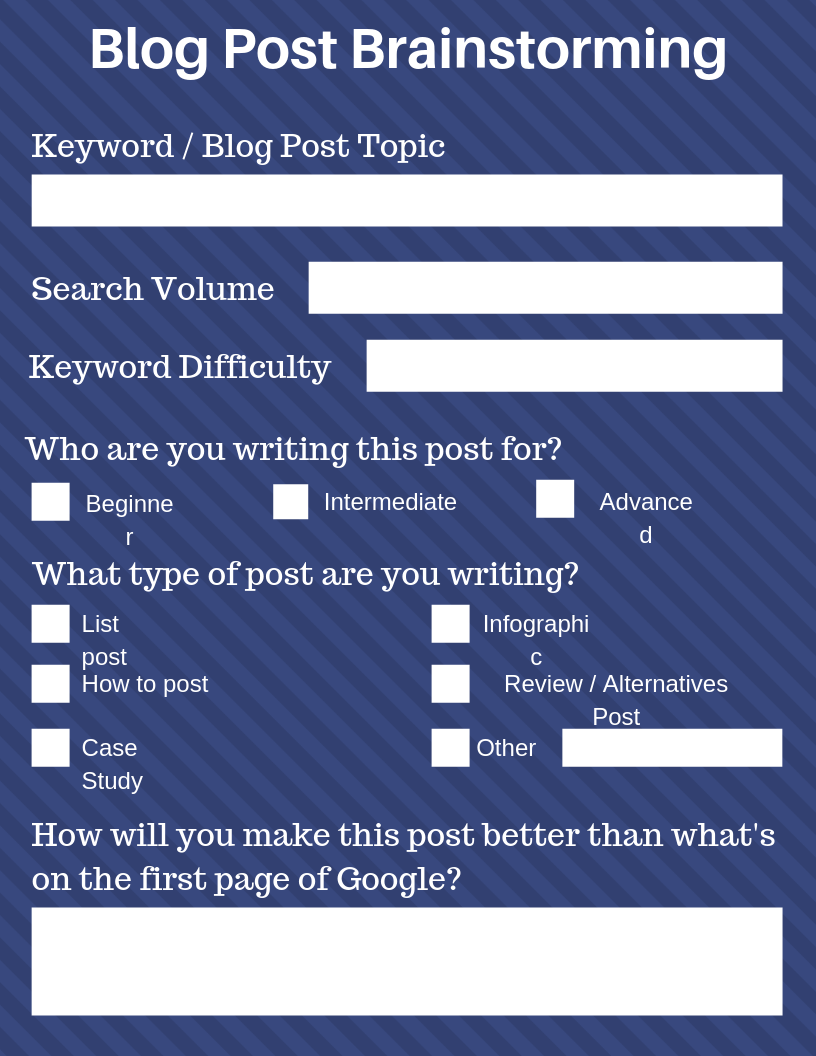 If you're looking to keep it simple, you may like the free blog planner from Entice which focuses on a post-promotion checklist, brainstorming and a simple to-do list.
You can grab it free here, no opt-in required!
Kate Doster's Definitive Blog Planner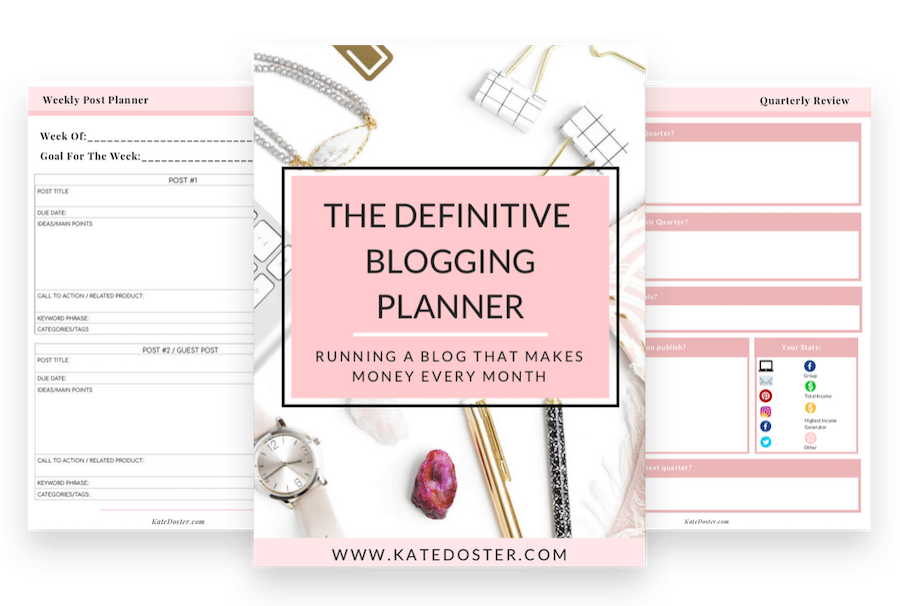 If someone knows blog planning, it's definitely Kate Doster. I purchased her Trello boards for blog organization and it totally changed the way I run my business!
This free blog planner is pretty-in-pink and comes with 17 pages. Here's a peek at what you'll find inside:
A – 30 Day Launch Your Blog Action Plan
Yearly, Monthly & Quarterly Goal & Intention Setting Worksheets
Blogging Foundations Worksheet – Where you get crystal clear on your readers, main blogging categories and start mapping out blog post ideas
Monthly Editorial Calendar
Blog Post Planner & Promotions Kit
Weekly To-Do Lists
Daily Journaling Prompts & Reviews
And so much more.
Glitz & Grammar Holiday Content Planner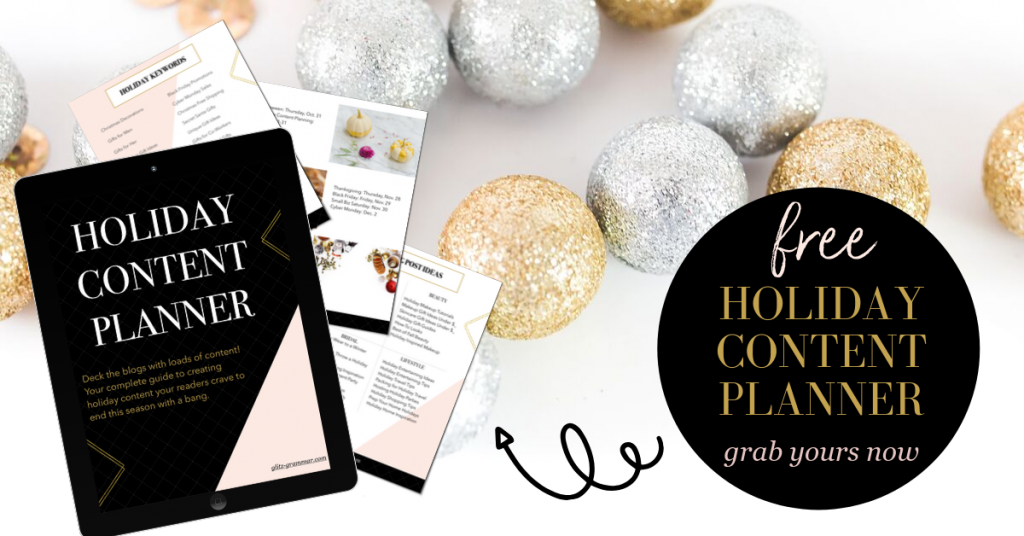 Q4 is one of the biggest money-making opportunities of the year, so capitalize on that with my free holiday content planner!
This printable planner includes best practices and strategies to help you make more money during the holiday season as well as:
Holiday blog post ideas
Keyword ideas
Important dates to remember
When to publish your posts
and so much more!
Mindful Pixels
Looking for a free blog planner that's an A5 size? Mindful Pixels has a lovely free content planner for you. Download it here.
Dear Crissy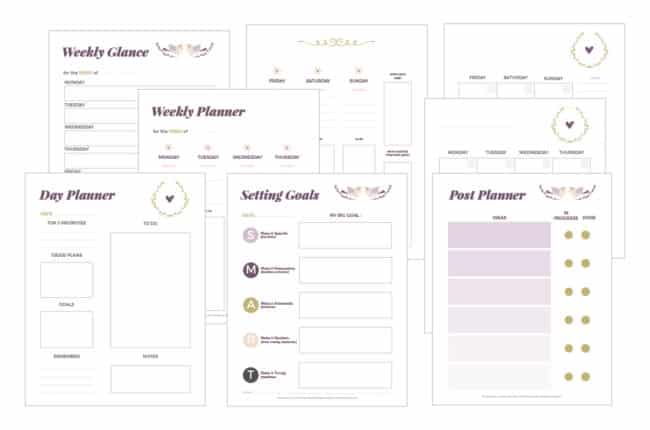 Dear Crissy has a pretty purple planner with more than 20 pages! Some of my favorites include the goal-setting page and vision board page, which is sometimes overlooked in free planners.
Here's what else you find in this free blog planner:
Daily blogging planner (undated)
Weekly blogging planner (undated)
Monthly blogging planner (undated)
Weekly glance
Blog post planner
Vision board
Goal tracking (several versions)
Project planning
Monthly income
Monthly expenses
Yearly finances
Password keeper
+More including a pretty cover & inspirational quotes!

Andrea Bolder Epic Blog Planner
Andrea calls her blog planner "epic" and at more than 48 pages–and free–it is pretty epic!
This planner is a blog and business planner, because you should be treating your blog as a business! You can use this to outline a plan for growth, your vision for the year, sales plan and more.
Think Creative Collective
If you want something a bit more simple and straight to the point, check out this one-sheet by Think Creative Collective. The design is lovely and it covers all of your blog planning essentials. Download it here.
Back at Square Zero
Plan your blogging and your social media all once with this free social media and content calendar by Back at Square Zero. Download it here.
She Means Blogging
Arfa over at She Means Blogging as a 12-month blog planner to help you start and build your blog! Grab it here.
Cassie Scroggins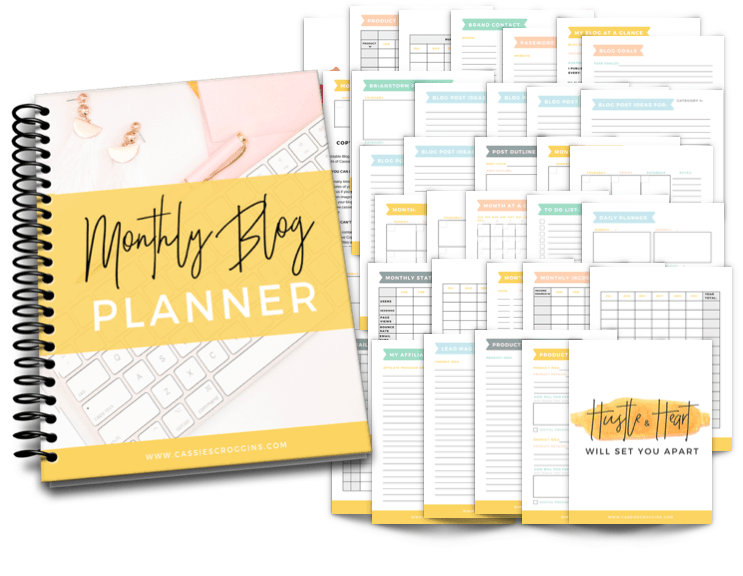 Cassie Scroggins has a bright and lovely free 10-page blog planner. If that's not enough, you can upgrade for just $9 to get a full 38-page planner!
In it she includes:
A Monthly Blog Planner Cover Page
Blog Identity pages
Goal Setting pages
Post Brainstorming pages
Fill-in Calendar Pages
Post Outline Pages
Month at a Glance Pages
To Do & Daily Planner Pages
Income, Expense, & Stat Trackers
Affiliate Sheets
Brand Contact Sheets
Motivational Quote Pages
Product and Lead Magnet Brainstorm Pages
And More!
Lustre Lagoon
Lustre Lagoon has a great 15-page planner that includes daily planning pages, social media trackers, goals and even an affiliate tracker.
Here's a peek at everything that's inside: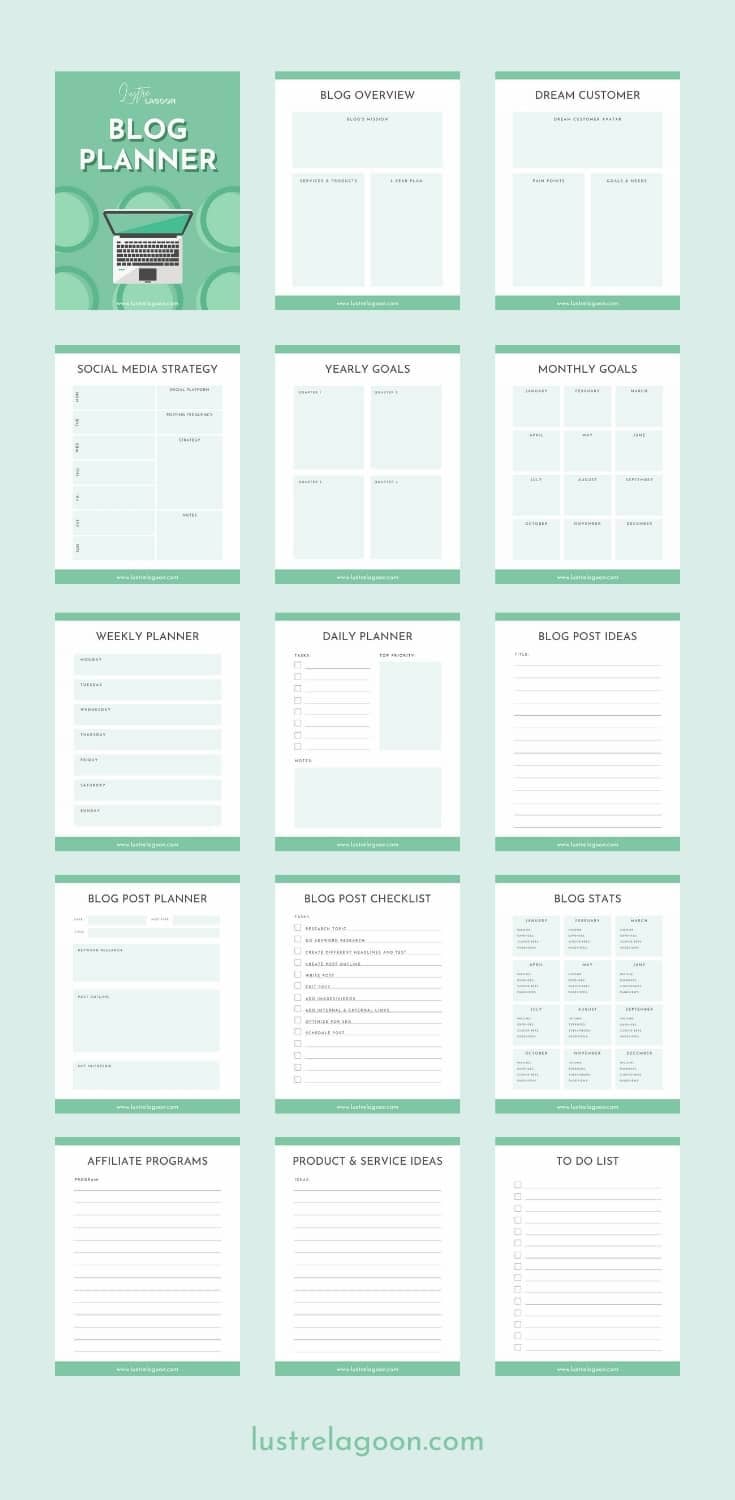 Blog Planner Cover Page
Blog Overview Template
Dream Customer Profile
Social Media Strategy Template
Yearly Goals
Monthly Goals
Weekly Planner
Daily Planner
Blog Post Ideas
Blog Post Planner
Blog Post Checklist
Blog Stats Tracking Sheets
Affiliate Program Memberships
Product & Service Ideas
To-Do List
Grab the free blog planner here.
Home Made Lovely Free Undated Printable Daily Blog Planner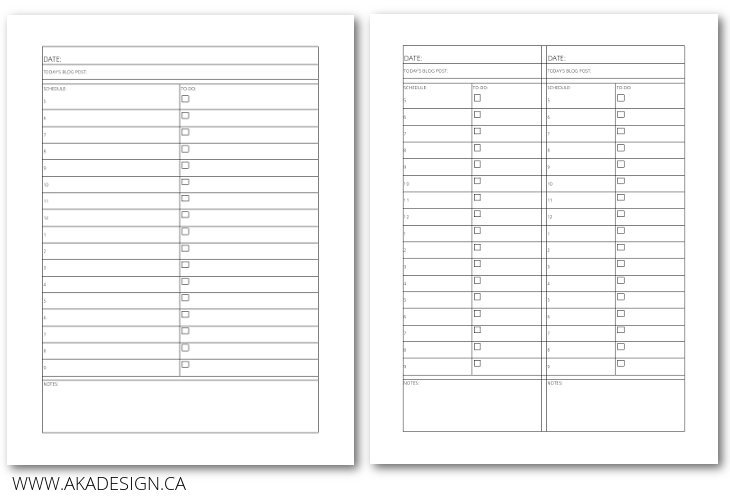 This undated daily planner by Home Made Lovely is customizable so you can print one day per page or two days per page. It is also undated, so you can use it as a 2021 blog planner or beyond!
The Flourishing Abode Blog Planning Worksheet
If you don't need a full-fledged planner but are more in the market for a blog planning worksheet, this free one from The Flourishing Abode is a great option!
It comes with just enough space to plan your content and is simple and streamlined.
---
Do you use a blog planner to keep track of your content planning? I'd love to hear how you stay organized!