How to Create a Holiday Gift Guide for Your Blog
Are you using gift guides to help boost your affiliate sales or boutique sales during the holiday season? You should be!
Gift guides are a great way to curate the absolute best for your readers, plus Pinterest really loves them. Which means more traffic, and more sales for you.
If you aren't sure how to create a gift guide, this tutorial is perfect for you. There are three recommended tools here (two of them free!) plus easy-to-follow step-by-step tutorials to help you create gorgeous gift guides.
MORE HOLIDAY BLOG PLANNING:
Why You Should Create Gift Guides for Your Blog
Gift guides can be used on your blog year-round. But they're especially useful on a seasonal basis when people are shopping for gifts!
Christmas gift ideas, gift ideas for the hostess and Mother's Day gift ideas are just some events where you can create a gift guide for your readers to shop.
If one of your strategies to make money blogging is affiliate marketing, then gift guides can be a great way to promote products your readers will love. They also have a long lifespan; once you create a gift guide, it can be popular for years to come (thanks, Pinterest!).
But first thing's first, let's find some products to recommend….
Choosing Items for Your Gift Guide
Once you've decided on the theme for your gift guide, it's time to hunt for products your readers will love. You can easily grab images off of most retailer's websites.
To save them, right-click and save the image to your Downloads folder. If the option doesn't appear, you may have to take a screenshot and then crop the image.
You'll also want to be sure you remove the background of the images. Here are three easy ways to do just that:
Try to find product images on white backgrounds whenever possible
Use an online background remover tool like remove.bg
If you're on a Mac, you can import images into Keynote to easily remove backgrounds. (tutorial below)
Save all of your images together in a folder on your Google Drive or Dropbox so you can easily access them when it comes time to actually create your guide.
I also will generate my affiliate links when I'm finding the products. If you use rewardStyle or ShopStyle Collective, you can quickly generate a link using the bookmark tool on your browser and then just copy/paste it into your Word doc. Be sure to label the link so you know what gift it goes with!
Personally, I find that grabbing the links while grabbing the image streamlines the gift guide creation process. You can also use Google Sheets if you prefer to be super organized, but I find pasting right into the document I'm writing my gift guide in works just fine.
Try a Gift Guide Template
You can create your own gift guides using some of the recommended tools below, but if you are just starting out or want a little extra help, you can find loads of inexpensive gift guide templates on Creative Market!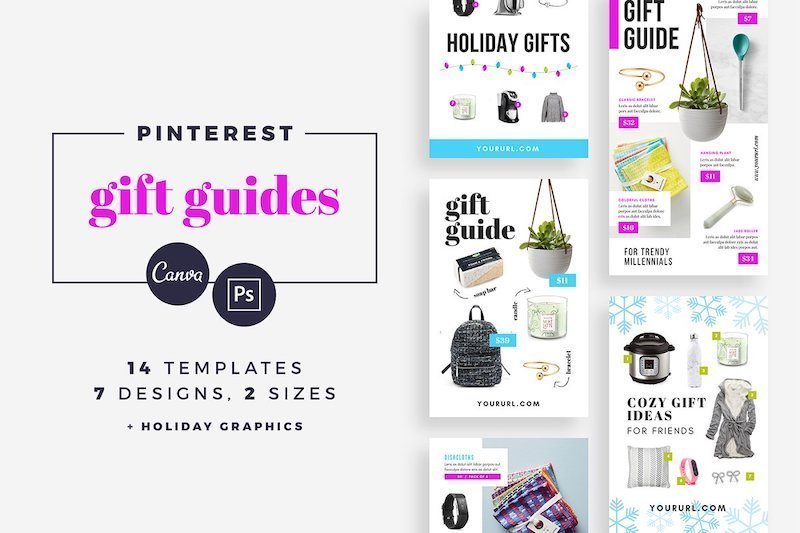 These gift guide templates can be used for Canva or Adobe Photoshop and will help you easily create beautiful gift guides. Shop Creative Market Templates here.
RELATED: The Absolute Best Blogging Resources Every Blogger Needs
Create Gift Guides with Canva
Did you know you can use Canva to create gift guides? You absolutely can!
Canva is a free tool to help you create blog graphics, banners and much more. Canva Pro is super affordable at under $13 a month and lets you save custom fonts and your branding. But the basic version is totally free! And, you can use it to create gift guides.
To start, upload all of your saved product images to Canva. Then, open up your gift guide template or create a new one.
It's a simple drag and drop process to insert your images and start creating your gift guide. You can customize fonts and add fun graphics; don't forget to include a snazzy title!
IMPORTANT: Did you know you can create hyperlinks in your Canva designs? You absolutely can! This is where you'll insert your affiliate links or links to items in your shop.
Make sure your links go to each individual product as well as link the text within your post to help increase sales.
Adobe Photoshop for Gift Guides
Before the last tool on this list, I used Adobe Photoshop for all of my gift guides on my fashion blog.
The Creative Cloud Suite is just under $10 per month, and it also comes with Adobe Lightroom which I use to edit my personal Instagram photos.
Just like with Canva, you can start by opening up a template or create your own. For my own, I typically use the Pinterest-size document which is 735×1102 pixels and select a transparent background.
Next, import your images from your computer; they will all open in new tabs in Photoshop.
To get your images onto the doc, simply select all + copy + paste one by one. On a Mac it's Command + A, Command + C, Command + V. You'll want to resize so select the TK tool to do so and then click Enter to paste the image. Repeat until all of your images are in the document.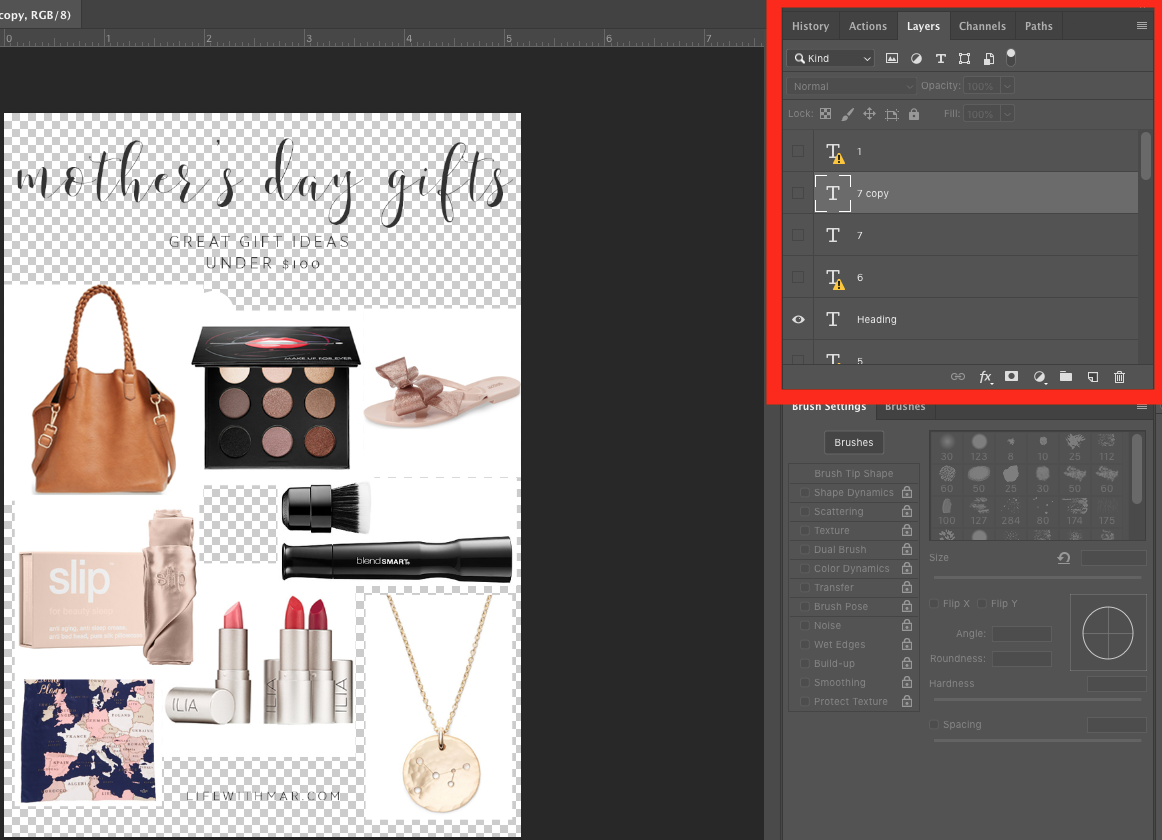 Need to rearrange? Since everything pastes in layers it's easy to do so; simply select the image you want to tweak to go back to that one and make it smaller or bigger as needed.
Lastly, use the text tool to add a title, your website URL and any notes like numbers.
Flatten the image. Then click on File, Export and save as a .jpeg.
PRO TIP: Before ever uploading images to your blog, make sure you compress them! I use and recommend ImageOptim for Mac.
Favorite Tool: Apple Keynote for Gift Guides
Did you know you can use Apple's Keynote tool (yes, the slideshow app) to create gift guides? This is my favorite way of creating gift guides as once you learn how to do it, it's so easy!
The #1 reason I now prefer to create gift guides with Keynote is there is a built-in tool that lets you easily remove backgrounds. So I first download all of my images and then when I insert them into Keynote, I can easily remove the backgrounds and arrange them as needed. Here's how:
Start by Opening up Keynote to Create a New Document
Navigate to the Document tab to change the size to Custom; mine is 768×1024
Click on "Insert" then "Choose" to browse your computer for your image.
Drag the corners until it's the right size you need it
To remove the background click on "Format" then "Image" then "Instant Alpha"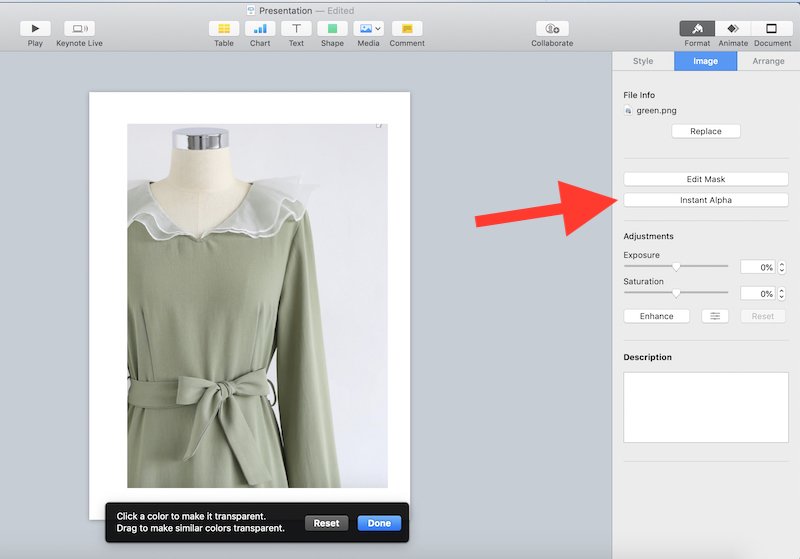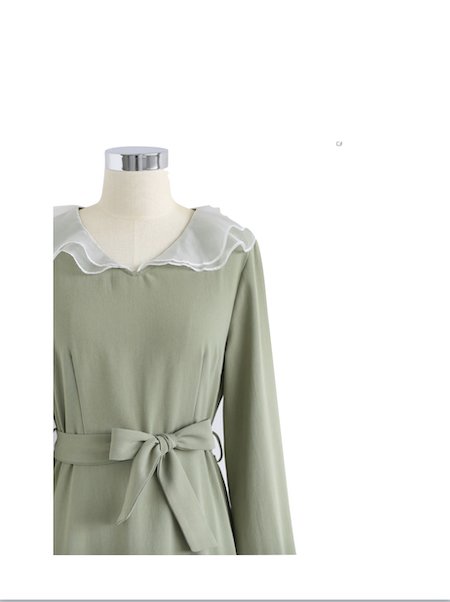 I save all of my gift guides in the same gift guide document so this effectively means I already have my own template and creating a new gift guide is really easy. I just duplicate the last "slide" and delete the old images and then upload new ones.
This process is so easy that now I create gift guides on my iPad! This is so handy as I can be in bed watching Netflix in the background and work on a gift guide for my blog.
Click on file, export as image and then save to your folder where your blog post is going.
How to Add Links to Your Gift Guide Image
Now that you've worked so hard on creating a gift guide, don't forget to add links to it!
Making each image clickable with a link will really increase your sales and conversions.
RELATED: How to Make Money Blogging
If you use rewardStyle, upload your gift guide image to the MoneySpot widget and create hotspots this way. (Need a rewardStyle referral? Email me and I will recommend you.)
The process is similar for ShopStyle Collective.
If you've monetized your links with a variety of retailers like those on Amazon, Shareasale or the gift guide is for your own boutique, you'll need to use an online image map generator like this one to create clickable links.
---
Alright guys, I hope these tutorials help you create some gorgeous gift guides just in time for the holiday season!
Found this post helpful? Share the love and Pin me, please!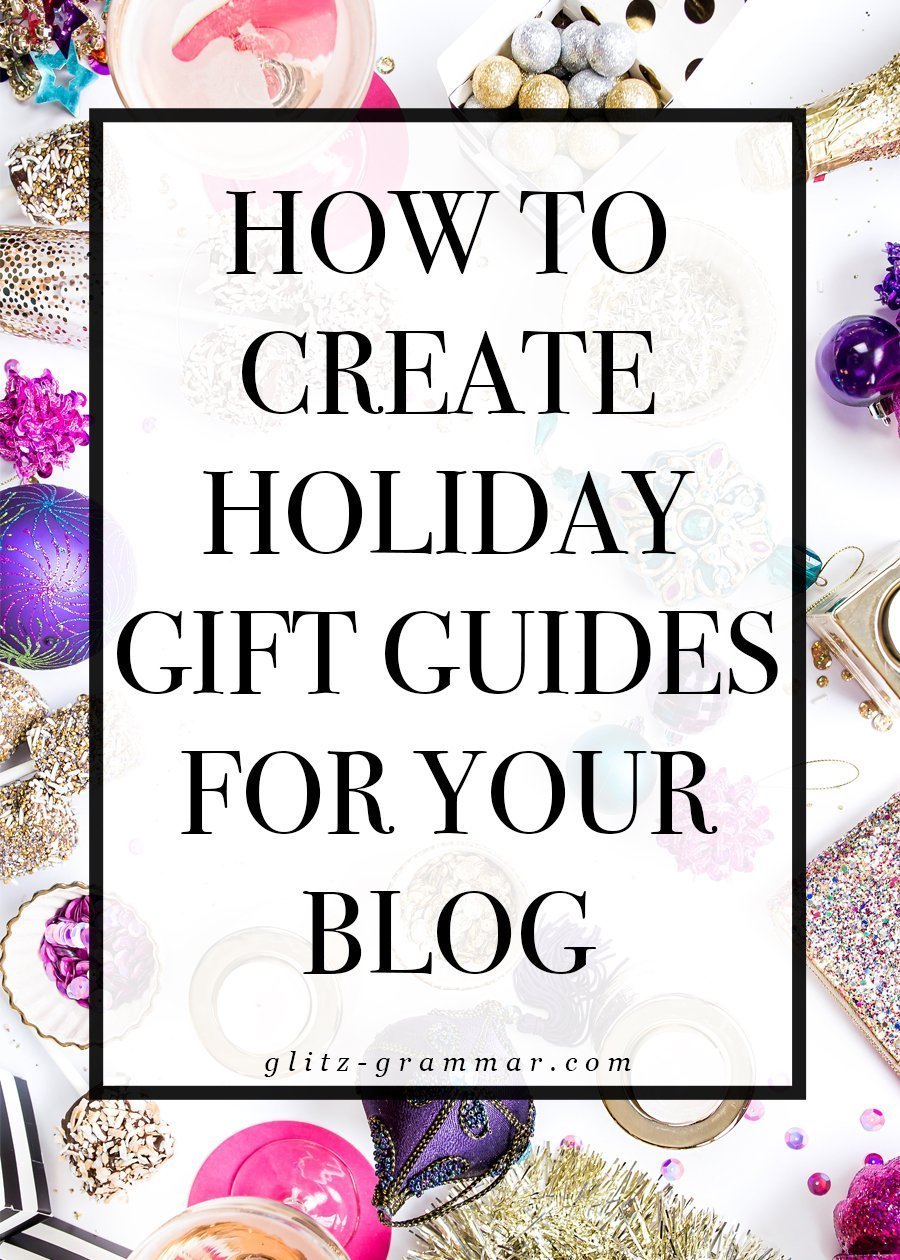 Do you currently create gift guides for your blog? Let me know in the comments below!