Finding free feminine stock photos can be a total pain if you don't know where to look. You don't want something that "looks" like stock, and that's a lot of what's out there. And you don't just need pretty feminine stock photos, you need them to look on-brand, too! Tall order? Don't worry, I've done all the homework for you.
Why You Need Feminine Stock Photos
But wait, do you even need stock photos? If you are not doing a branded photoshoot and need images to go along with your blog, then the answer is yes.
It is NOT legal to drop into Google Images, find a photo and repost it on your website. This can bring on a lawsuit and saying, "Sorry, I didn't know!" won't excuse you from this. The only way you can do this is if you have permission to repost from the original author or if they have a Creative Commons license. Grabbing any image, even if you credit and link to the original author, is not legal.
Think of it this way: Would you walk into a store and take a dress because you saw it hanging on the rack? No. Someone manufactured it, which cost them time and money, so they'd either have to give you permission to wear it or you'd have to pay them for it.
That's where stock photos come in, and they can be oh-so-wonderful. (If you want some ideas on how to use stock photos, check out this post.)
Stock photos are a really affordable way to enhance your blog and website–without paying for a branded photoshoot! Here are some of my favorite places for free feminine stock photos + some recommendations of paid memberships I've personally used and recommend.
Free Feminine Stock PhotoS
Pexels is one of my go-tos when I'm looking for stock photos for clients or that isn't already in my resource library. The others listed below are other great free stock photo sites that will send you pics on a monthly basis when subscribed to their newsletter.
There are many, many more places to get free feminine stock photos, but these are my favorite. If you really want gorgeous feminine stock photos, the below membership sites are where it's at.
Feminine Stock Photo Memberships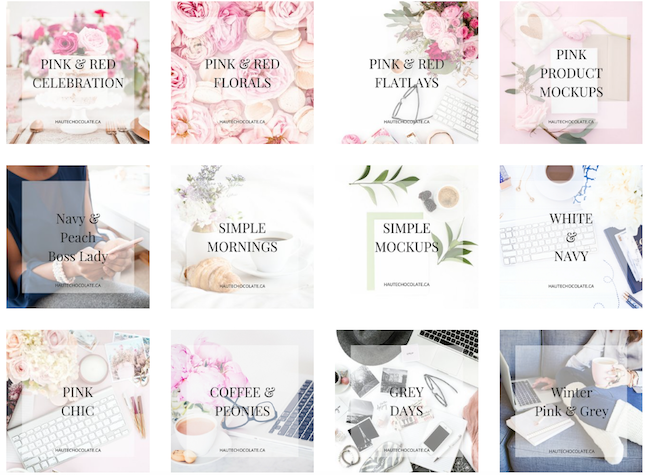 This is probably my favorite membership for feminine stock photos. The photos are just plain gorgeous and Rachel has a new themed collection that comes out monthly along with instant access to her library of nearly 2,000 photos! If you want a taste of it, sign up for her newsletter and you'll get free stock photos every month and tips on how to use them. She also includes graphics packs, tutorials, seasonal images, lifestyle and desktop flatlays and motivational quotes perfect for Instagram–just add your logo and you're good to go! Haute Chocolate memberships are $99/quarter or $299/year and absolutely worth it. They've helped me create a cohesive brand experience on my blog and my Instagram.
Another one of the first feminine stock photo sites I joined is Styled Stock Society. Elle favors plenty of girly photos filled with flowers, makeup and all things pretty. You can subscribe monthly, quarterly or annually and she has plans starting as low as $29/month. Right now, there's over 400 images to access in the library with 30+ being added each month. Not sure you want to committ to a membership? You can also buy one-off photos and subscribe to the newsletter to get free monthly images.
I haven't used Kate Max Stock yet as I just recently discovered her site, but boy are her images drop dead gorgeous! You get instant access to over 2,000 images in her library and she adds around 30 images a month. You can also sign up for the monthly newsletter to get a taste for it and grab a few free stock photos each month. Kate Max Stock photo membership runs $90/quarter or $225/year. You can also buy one-off photos if you aren't interested in a membership.
Shay Cochrane over at SC Stockshop was the first on the feminine styled stock scene, and her photos never cease to impress. You can buy curated collections or one-off photos which are incredibly high-quality and can be used in a variety of ways. I have one of her collections I used for my own branding and am impressed by how much versatility I can get out of each image. She even shows you how to get 30 uses from just ONE image, check out that post here. 
Like this post? Pin me, please!
---
Do you use stock photos for your blog or business? What's your favorite site for feminine stock photography?