If you're looking for holiday blog post ideas, you're in the right place!
Part of being a successful blogger, especially during this busy season, is having a great content plan. That's why I put together this list of 50 holiday blog post ideas to help you plan your posts!
Don't let this rushed holiday season get away from you and instead, sit down and plan what posts you'll be tackling come Q4.
For some extra guidance, I've also put together this totally FREE holiday content planner, which is jam-packed with keyword ideas, a printable planner, best practices for the holiday and much more. Grab yours here, and then fill it in with some of these 50 holiday blog post ideas below.
Enjoy and happy planning!
50 Holiday Blog Post Ideas to Inspire Your Content Planning
How to decorate your home for the holidays
What to wear to that holiday office party
Holiday gift guide for her
Holiday gift guide under $100/$50/25
Best of Black Friday Deals
Holiday outfit ideas
Holiday makeup tutorials
Best makeup gift ideas
Holiday makeup trends
Holiday fashion trends
DIY Holiday decorating
DIY Christmas decor
What to wear for Thanksgiving
Tips for traveling during the holidays
How to host the perfect holiday party
What to wear for Christmas/holiday parties
What to wear for New Year's Eve
New Year's Eve makeup tutorial
Goal setting for the new year
Year in review blog/personal recap
Thanksgiving home decor ideas
DIY holiday gifts
Gift ideas for the hostess
Holiday gift guide for him
Holiday gift ideas for kids
Holiday traditions: roundup or your own
Holiday cocktail recipes
Holiday appetizer recipes
Best of Cyber Monday shopping deals
Favorite holiday cookie recipe
Best places to spend the holidays at locally
Unique holiday traditions
How to keep the kids busy during the holidays
How to make guests feel welcome during the holidays
Easy holiday meal ideas
DIY holiday crafts for kids
DIY holiday crafts for the whole family
Winter skincare routine
Stocking stuffer gift ideas
Packing for holiday travel
Holiday shopping tips
How to prep your home for the holidays
Classic holiday home decor
Modern holiday home decor
Holiday entertaining ideas
How to wear __ holiday trend
How to host a holiday brunch
Holiday hair tutorials
How to stay in shape during the holidays
Holiday home tours
If you found this post helpful, please Pin and share the love!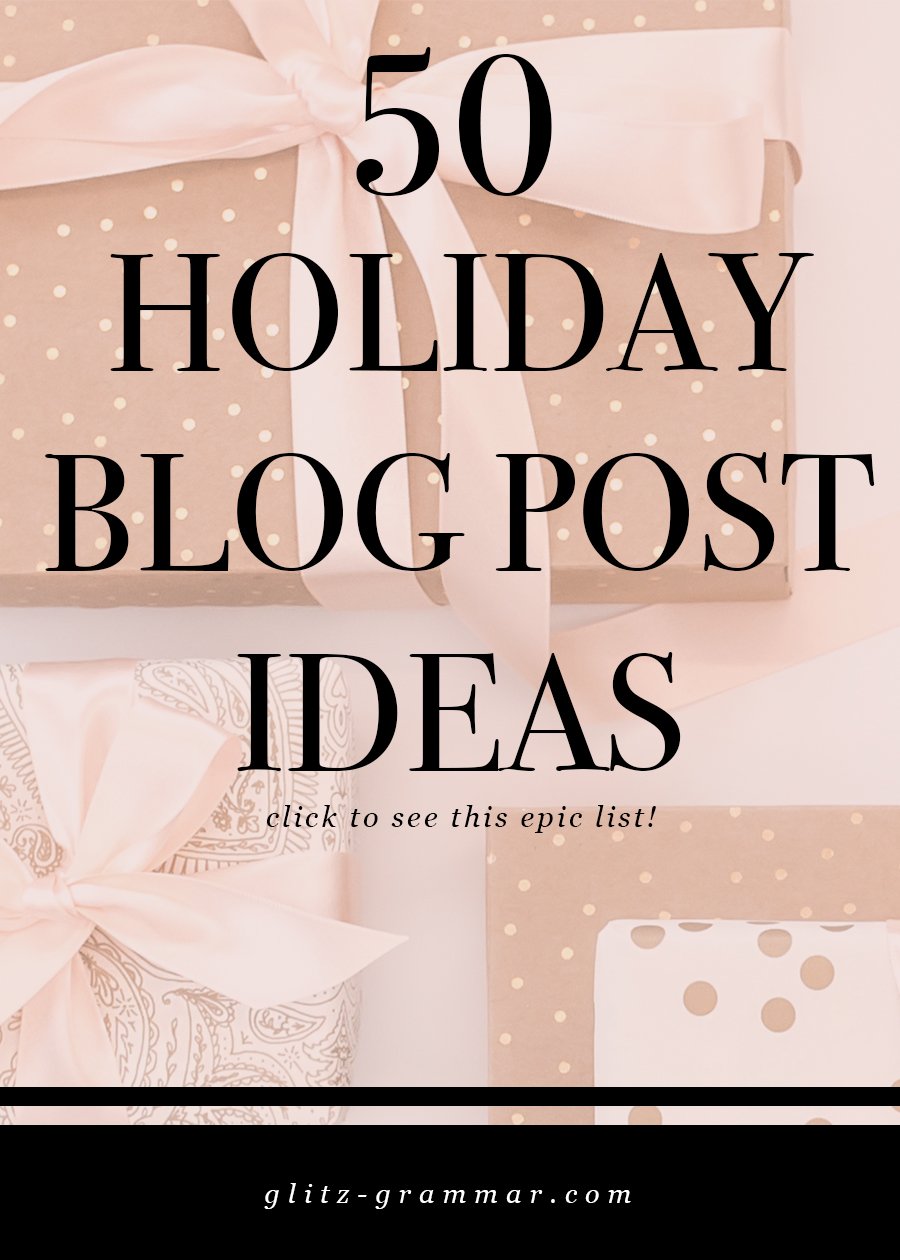 ---
Any other holiday blog post ideas I should add to this list? Leave a comment below and let me know!