This post may contain affiliate links, which means I will make a commission at no extra cost to you should you make a purchase.
When you're just getting started on your blogging journey it can be SUPER hard to even think about investing in your business.
Truth is, like any business, you have to invest money to make money. And really, what better investment can there be than yourself?
Luckily, there are loads of amazing resources online, both free and for minimal investments. So here, you'll find the best blogging courses under $100.
For Everything About Blogging: The Genius Bloggers Toolkit
By a long shot, the #1 blogging resource you can get for under $100 is The Genius Bloggers Toolkit. This kit by Ultimate Bundles is only available for a few days once a year and includes more than $7,000 in blogging resources for just $97. Yeah, just let that sink in…
The 2019 Genius Bloggers Toolkit will be available beginning October 2 and ending on October 7, 2019. Here's a sneak peek at what you'll find inside:
Affiliate Marketing: 5 products worth $222.99
Beyond Blogging: 3 products worth $384.97
Branding: 4 products worth $106.94
Building Your Blog: 7 products worth $1,234
Content Creation & Promotion: 5 products worth $205
Creating & Selling Products: 6 products worth $695
Design: 4 products worth $228
Email Marketing: 7 products worth $481.95
Facebook & Twitter: 4 products worth $261.99
Finance & Legalese: 5 products worth $212.99
Get Started: 6 products worth $680
Instagram: 4 products worth $227.50
Monetization: 4 products worth $221.97
Pinterest: 7 products worth $440
Podcasting & Vlogging: 5 products worth $158.98
…and that's not even including the bonuses!
I bought The Genius Bloggers Toolkit last year (each edition is different) and can honestly say it was action-packed with amazing resources. Yes, it's impossible to get through it all, but if you're wanting to learn a few new things in the next 12 months it's truly worth the investment.
You don't have to go through every single item. I tackle it by focusing on one subject I'm looking to up level in at a time. So if you want to learn more about Pinterest check out the Pinterest offerings. Chances are high it'll be well worth your investment!
SPECIAL NOTE: Learn more about The Genius Bloggers Toolkit by attending one of the two FREE webinars hosted next week by blogging pros Ruth Soukup and Bob Lotich. They'll be spilling some major blogging secrets to help you build a thriving blog! Register here.
For Affiliate Marketing Help: Affiliate Marketing for Bloggers: Everything You're Missing
If you're looking to make money blogging, affiliate marketing is likely part of your blogging strategy. But what if your links just aren't converting? Well, that's where this course comes in.
And, it's under $100!
This course by Carly Campbell of Mommy on Purpose does a great job at pointing out little things that make a big impact when it comes to affiliate marketing. She includes easy-to-follow case studies that shows you exactly what she did to boost her affiliate revenue both through her blog and her email list. And, the course is just $79! Learn more here.
RELATED: How to Make Money Blogging
For Organizational Happiness: Trello-ing for Traffic
I know when you think of the best blogging courses under $100 an organization course may not come to mind but bear with me: Kate Doster's Trello-ing for Traffic Course is by far one of the BEST investments I've EVER made on my blog…and it was just $24!!!!
She should be charging triple what she does as this course will whip your business into tip-top shape.
Inside, you'll get 22+ Trello board templates you can copy for basically everything you will ever need in your business like:
Your Business Dashboard
Editorial Calendar
Launch Plan
Product Creation
Webinar Workflow
Pinterest boards
Podcast Workflow
Social Media Checklists
Goals & Planning Boards
…and so much more.
Plus, the video tutorials will show you HOW to get the most out of Trello, how to use every board and basically contain a ton of amazing value.
Again, I really cannot stress enough how much using Trello—specifically these boards—have totally changed my business. I went from planners and post-it notes everywhere to these fabulous boards that keep everything tidy and beautiful. Learn more here.
RELATED: 17 Ways to Simplify Your Blogging
For Influencer Advice: influencer by Brittany Hennesy
Technically this book isn't a blogging course under $100, but it may as well be! It's packed with great advice for aspiring influencers and experienced ones alike.
From how to work with brands and get featured in the media to contract negotiations and more, Hennesy's book is a fantastic resource for all influencers and a must-read. Get it here.
For Increasing Conversions: Pot Pie Girl's Niche Post Conversion Strategies
Niche Post Conversion Strategies is another e-book, priced at just $47, and it's no-fluff, straight to the point with tips on how to optimize a niche post on your site for more affiliate conversions.
It works.
After implementing some of the suggestions in her e-book on just ONE of my posts, I tripled my sales within three weeks.
Out of all of my years blogging, I have never implemented anything that worked so quickly. I immediately made back my investment! Get the book here.
To Improve Your Writing Skills: How to Find Your Writing Voice
Well, it couldn't be a roundup of the best blogging courses under $100 if I didn't include one of my own, right?! This totally FREE mini e-course on How to Find Your Writing Voice has helped thousands of bloggers learn how to:
Build a distinct and memorable brand
Connect with their ideal client
Feel confident in your writing
Finally create copy that represents you and your brand
To Write Your First E-Book: E-Book by Number by Suzi Whitford
You're probably familiar with Susie from Start a Mom Blog's courses, last year in The Genius Bloggers Toolkit was her E-book by Number course, another great blogging course under $100.
Susie's teaching style is so friendly and approachable; she has a great knack for simplifying complex topics and is so genuine.
In this course, you'll learn everything you need to know about how to create and launch your first e-book. She even includes e-book templates, a launch plan, tips on designing and more.
If you're looking to write an e-book this year, which is a great way to diversify your blog's income streams, this course is for you. Learn more here.
Like this post? Share me, please!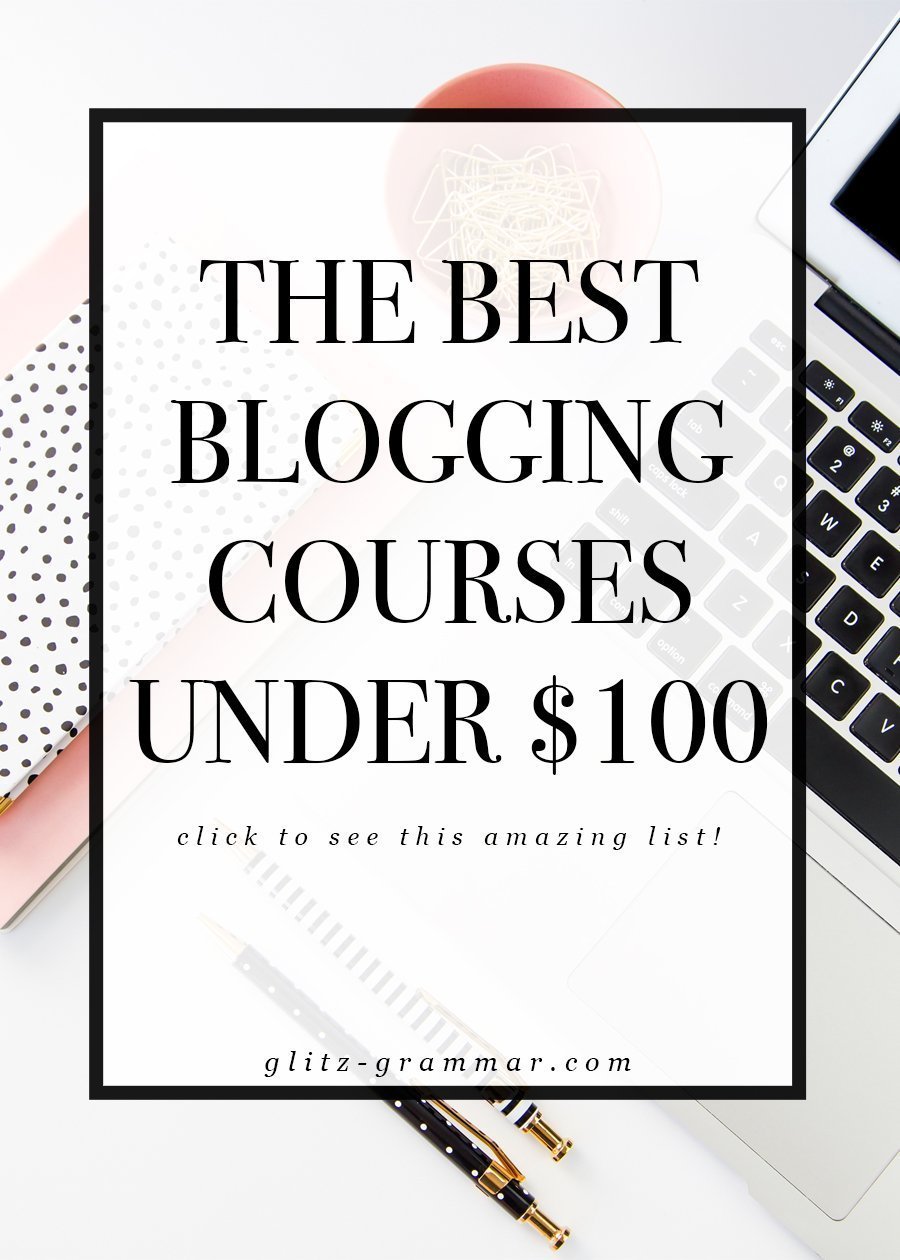 ---
What are the best blogging courses under $100 you've tried? Let me know in the comments below!