Hey, friend! I see you over there totally overwhelmed with All.The.Things on your to-do list in your blogging life.
From updating your social media graphics to responding to emails, brainstorming blog posts ideas and, oh yeah, actually blogging there's so much to do.
I can't tell you how many times I've also sat down at the computer and just felt totally overwhelmed. Not to mention, most of us are doing it while juggling other things like, I dunno, a job, a family, a social schedule—life!
If you're looking to simplify your blogging and streamline things a bit—and you should if you are just starting out—read on for 18 ways to do just that.
18 Ways to Simplify Blogging
Unsubscribe From the Noise
It's totally tempting to sign up for 1,000 freebies, but then your inbox gets overloaded and overwhelms you, too!
With so many people selling you what you "need" next, it can be hard to decipher what it is you should actually focus on in your blog and biz.
ACTION STEP: Create a separate email address just for freebies. And use unroll.me to unsubscribe to the lists that aren't serving you.
Create an Editorial Calendar
You should never sit down to "write" and begin by brainstorming your next blog topic. That should happen at a totally different time and place.
One of the easiest things you can do to simplify blogging is to create an editorial calendar and then stick to it. This way, you know exactly what you're writing and when.
ACTION STEP: Learn how to create an editorial calendar and what goes in one. Then, get working on your quarterly plan!
Make Deadlines & Stick to Them
I know, deadlines are NOT sexy. But when you're working for yourself with no boss over your head, you really need them.
Once you have your editorial calendar, work backwards to create deadlines for each step in the project process.
Here's an example:
Brainstorm blog post ideas
Finish rough draft
Add affiliate links
Work on blog post headline
Upload/format post
Add images
Create Pinterest graphic
Write and schedule social copy
Fill out Yoast SEO
Schedule!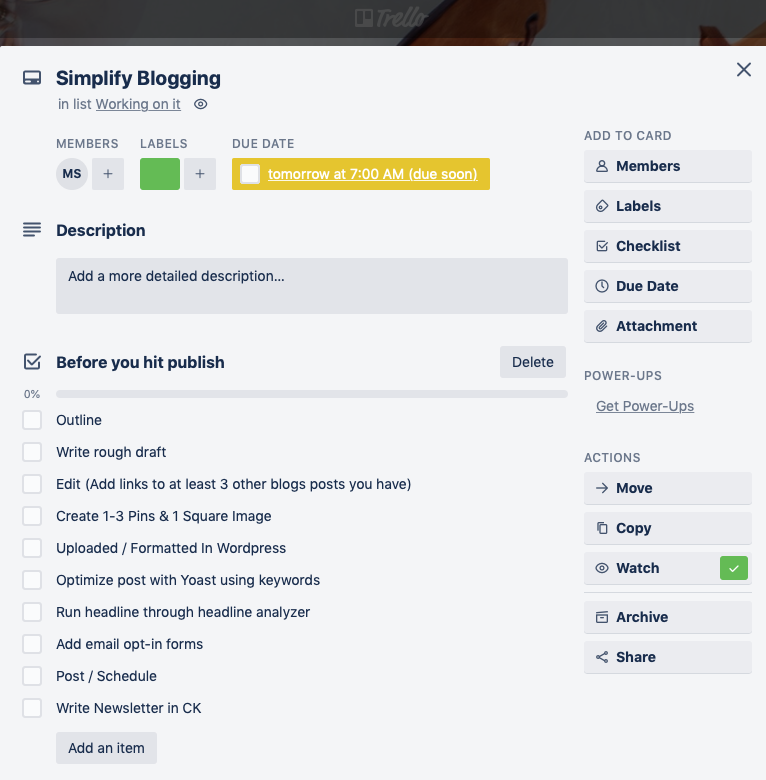 ACTION STEP: Open up your calendar of choice (I use Trello for this) and start working on those deadlines!
Join a Networking Group
The temptation to subscribe to a million and one things is huge, to get your "fix" for knowledge and resources, consider joining a blogging network.
If you're a fashion, beauty or lifestyle blogger, Style Collective is a great group I'm a part of that offers amazing resources like free stock photos, a monthly blog planning kit, e-courses on monetizing and growing your blog and much more. All for less than $15 a month.
For business owners and bloggers alike, I love Carrie Greene over at the Female Entrepreneur Association. This group is amazing for networking and monthly resources that will help you learn things like how to master Facebook ads, how to start an online course and much more.
Avoid the Email Rabbit Hole
Email is a productivity killer. Instead of checking it repeatedly throughout the day, schedule it in.
This is hands-down one of the best productivity hacks I've ever learned.
Check your email twice a day—in the morning and in the afternoon if you wish—so you can truly focus on your tasks at hand.
Don't Go Crazy on Social Media
If you're just starting a blog, you should not be trying to do all the things and jump on Facebook, Twitter, Instagram and YouTube all at once. Just say no!
Now which platform should you pick? That totally depends on who your audience is and where they hang out!
Instead, focus on growing your following in one place first until you are able to free up some more time, or outsource.
Plan Your IG Feed Ahead of Time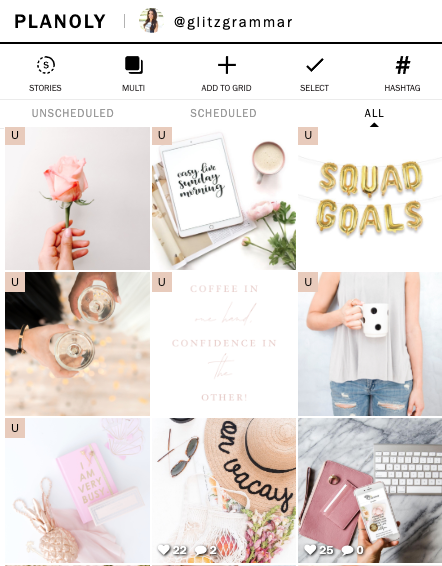 If your audience is hanging out on Instagram, plan your feed ahead with Planoly. It's free for up to 30 posts a month and will let you plan out Stories and save hashtag sets, too.
Bulk Plan Pinterest
You may notice I didn't include Pinterest in the list of social media to take into consideration. That's because Pinterest is more of a search engine than a social media tool, and one I think every blogger should prioritize.
Pinterest is the #1 driver of traffic to both my blogs.
But it can also be a time-suck.
To get around that and constantly stay active on the platform, use a planning tool like Tailwind.
RELATED: 5 Pinterest Tools to Explode Your Blog Traffic
The great part about Tailwind is that you can plan your week of pins in about 30 minutes and it will trickle them out for you.
There are also some other amazing features like access to Tribes, which works the way Pinterest Group Boards used to work, which will help explode your blog traffic.
Click here to get a FREE trial of Tailwind today!
Consider Hiring a Consultant
An outside opinion can really help you hone in on what's working, what's not and how to best strategize your plan. (Spoiler alert: I do this!)
I've worked with consultants to help set me straight when feeling overwhelmed, and I also work with beginning bloggers and business owners to help them create a content plan, sort out their blog or feel "unstuck".
There's just something about working with someone 1:1 who gets involved in your business that's a little different than an e-course since it's specifically tailored to you.
And while you can spend plenty of time Googling things, it's a huge time-saver to talk with someone who's been there, done that!
Click here for more info on blog consulting and see if we are a mutual fit!!
Decline Event Invites
As a blogger, your job can seem never-ending. Whether you're pitching a brand, planning a photoshoot or pulling clothes for a TV segment, there's always more to be done.
On top of that, there are loads of event invitations to attend. But here's the truth: it's ok to say "no".
Not everything is a great fit, not everything is worth your time. And even if you are just getting started, it's exhausting to do it all.
Sometimes what you really need is Netflix and chill, not another event to go to.
Batch Your Blogging Tasks
If you're feeling overwhelmed and desperate to simplify blogging, one of the easiest steps you can take is to streamline your workflow by batching your blogging tasks.
RELATED: How to Batch Your Blogging Tasks
Check out the post above for a step-by-step guide.This will greatly increase your efficiency and simplify your blogging.
Say "No" to Free Stuff
Nothing in life is free, especially the "free" swag that can often be tossed your way.
If it's a big brand or good opportunity you're considering and hoping it leads to paid work, that's one thing. But if you're saying yes to every little thing, you're giving away your time, which could be better used toward pursuing money-making opportunities.
RELATED: Snag This Money Making Tasks Cheat Sheet
Do Not Sign Up for A Million Affiliate Networks
I keep seeing these pins floating around Pinterest with the top 100 affiliate networks you should join.
Ugh.
No.
Please do not run out and join 100 affiliate networks.
The best way to make money with affiliate marketing is to create a relationship with the affiliate you are interested in and focus on promoting only a select few.
Think of it this way: How will your audience trust you if you are all over the place? It's like throwing spaghetti at the wall and seeing what sticks.
You can also simplify this by joining an affiliate platform like RewardStyle which gives you access to hundreds of brands to link to and promote. (It is invite-only, email me for a referral)
Be Realistic About Your Goals
Setting achievable blog goals is so important, friends. Please do not expect to start and grow a blog from 0-60,000 page views in 6 months because some Facebook ad told you that's what happened to them.
Blogging is a slow road. But slow and steady wins the race.
RELATED: How to Set Realistic Blogging Goals
Unfollow, Unfollow, Unfollow
If someone isn't encouraging you, please unfollow.
If someone makes you feel bad about yourself in any way, please unfollow.
If someone's knowledge isn't serving you, unfollow, unsubscribe, unfollow!
Entrepreneurship is hard, only leave room for what's actually serving you and what's helping.
Create ONE Amazing Opt-In
Growing your email list is vital to blogging success. You can do this by creating ONE amazing opt-in instead of a custom one for every single blog post.
Sure, the latter is a great technique, but it's best to simplify this when you're just starting out.
Re-purpose Your Older Content
There's no need to be on this content hamster wheel of constantly creating fresh, new things. Instead, re-purpose your older content and make it work for you.
This may mean updating old blog posts, consolidating content from several, creating a video, podcast or social media content from posts—it's all consolidating!
Use Resources to Your Advantage
There are so many resources out there designed to simplify blogging, make sure you are using them to your advantage! I've compiled the absolute best here.
Like this post? Pin me, please!