Why (And How) to Set Realistic Blogging Goals
The beginning of a new year is fresh around the corner, which means there are approximately 8,923,455,673 posts floating around the web right now on goal setting for bloggers.
It's hard to find a system that works and keeps you on track year-round.
The fact of the matter is people lose momentum. And that's especially the case if you don't set realistic goals.
So I could sit here and tell you "How to Make 10K Blogging in 3 Months" or "How to Explode Your Blog's Pageviews by 350% in 30 days" or something else equally tantalizing/outrageous, but I'm not going to. I'm going to assume that real life happens, and real life is made for real goals. Here's how to set some.
Why (And How) to Set Realistic Blogging Goals
Annual Planning Doesn't Work
Big lofty goals are fun, but they can be hard to achieve if you're not breaking them down into manageable chunks.
What's more, the longer we give ourselves to achieve a goal, the longer we'll take to do it! (We ALL need deadlines)
To really focus, try setting quarterly goals instead of annual ones.
When you look at your year quarter by quarter, and month by month, it'll be much easier to break down the steps you need to take to achieve each goal, and you'll stay focused.
For example, maybe for Q1 your major goal is to launch your website, or to grow your email list to 2,500 subscribers. Both have different steps you'd need to take to achieve, and you'll be much more efficient focusing on one at a time.
I keep track of all of this inside my 90-day promotional calendar Trello board. It helps me break down my goals by the quarter and see an annual overview as well.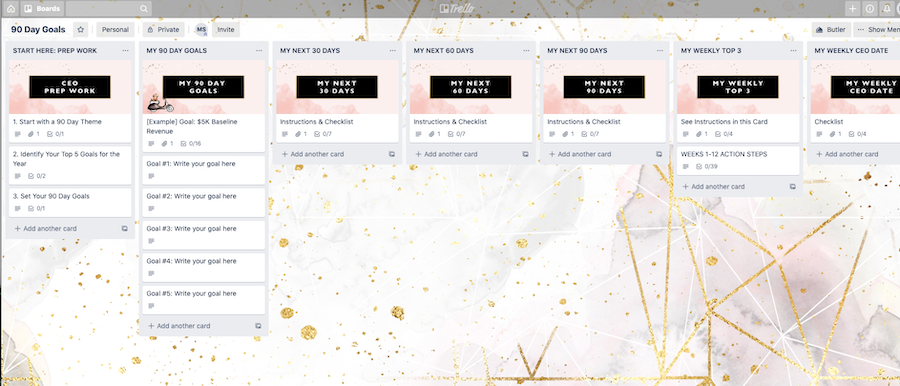 Be Honest About Your Time
Something that frustrates me about seeing headlines like  "Grow Your List by 10,000 in 30 Days" is that most people aren't transparent about how much time is really involved in achieving such lofty goals.
You need to be honest about how much time you really have to dedicate to growing your blog and set realistic goals accordingly.
I recommend a simple time tracking exercise and writing down exactly how long it takes to complete each task. Then, tally up HOW much time you actually have during the week.
If you're anything like me, you may find you've got way more work than you thought, and less time than you thought.
This is a great opportunity to really focus on what's important, and eliminate the unnecessary stuff that's not moving your needle forward.
---
RELATED: How to Batch Your Blogging Tasks
---
Make Sure You're Working Toward Your Goals Weekly
When you sit down to plan each week, make sure you're working on items that will move you closer to your quarterly goals.
Here are a few examples of blogging goals with action steps that will get you there.
Goal: Reach 25,000 Pageviews per month
Action steps:
Create 5+ Pinterest graphics per post
Create one expert roundup per month
Write one new blog post per week
Create one Pinterest-friendly roundup per month
Write one long-form 3,000+ word piece of content
Goal 2: Grow my email list to 5,000
Action steps:
Create one new freebie this month
Create pins leading to my freebie posts
Run a FB ad offering my opt-in freebie to grow my list
Goal 3: Make $1,000 on my blog this month 
Action steps: 
Update my media kit
Pitch 10-20 brands per week for brand collaborations
Reach out to previous brand partners and re-engage
Create new pins for popular posts with affiliate links
Update old popular posts with new affiliate links
Each of these goals is an example of ONE goal to focus on per quarter.
It's fine if you want to add all three to your goals list, but ultimately it's best to focus on one per month/quarter if you want to make some progress.
This is the process I take my 1:1 blog consulting clients through to get really focused on a plan that yields results!
Re-Adjust Frequently
Goal setting should never be something that's set in stone, life happens and you need to be able to go with the flow and adjust frequently to avoid getting frustrated.
If the goals you set for yourself were just too lofty, adjust to something more realistic. It's important to check in often and analyze what's working and what's not to help move you closer to your goals.
If you do find out your goals have become a little outlandish, it's ok to adjust them! It's better to reach smaller milestones than to feel defeated by setting unrealistic expectations on yourself.
Be Patient
Everyone wants to lose 10 pounds in 5 days by making zero effort and eating whatever they want. But that's not real life! Goal setting is hard work and takes plenty of time, dedication and patience.
Go ahead and block out any noise about how others got it done so "easily" and focus on just you. With a little bit of patience and some hard work, you'll undoubtedly get there.
Find a System that Works
If you're a paper planner person, write your goals down in a paper planner.
If you're more digital, try a digital planner or something like Trello.
I use a combination of the last two and find that works best for me. There is a 90-day Promotional Calendar inside the Trello-ing for Traffic boards I have which work perfectly for this exercise!
---
RELATED: The Best Free Printable Blog Planners
---
Start–Whenever!
There is nothing magical about January 1. If you find yourself in need of goal setting in the middle or March or September, start then! It's never too late, or too early, to get started.
---
TLDR: If you're honest with yourself about your resources, setting 90-day goals and willing to be patient and re-adjust frequently, you'll be well on your way to setting totally achievable goals that you can hit year-round.
---
Do you set blogging and business goals for the New Year?