12 Blogger Networks to Join to Make Money Blogging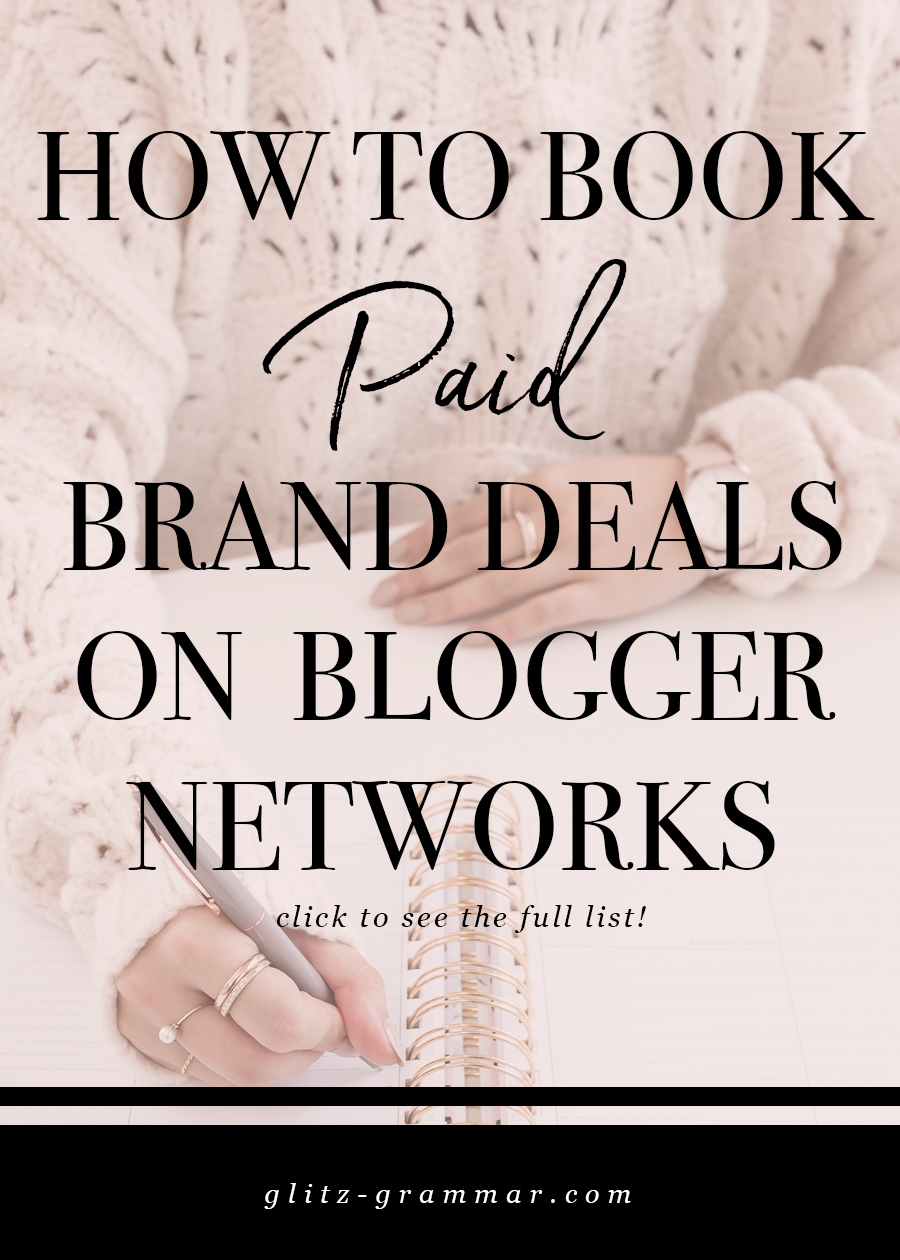 If you're a blogger or influencer trying to monetize, you need to join blogger networks.
It's just one of the many ways you can make money blogging, and yet another piece in the blogger income puzzle.
RELATED: How to Make Money Blogging
But what are blogger networks? How do you find them, join them and make the most of them? This guide will show you just that! And if you're interested in making money blogging, download this free cheat sheet here.
What Are Blogger Networks?
Blogger networks, or influencer marketplaces as they're also sometimes called, basically act as the middleman/agency between brands and bloggers.
You'll join the network and create your profile which includes details like your blog, your reach, your bio, photo and sometimes more, like what's unique about you and your brand. Then, brands will be able to find you for paid campaigns.
Influencer networks work in different ways, depending on the network you join. In some, you'll be able to apply to open campaigns and pitch yourself for a project (more on that below.)
For others, you'll simply create a profile and wait for opportunities to come your way. Brands who are looking to partner with bloggers and influencers will then log on or work with their account rep to find the right fit for their campaign.
Why You Should Join Influencer Marketplaces
If you're just getting started on your blogging journey, blogger networks can be a great way to get your feet wet when it comes to working with brands on paid campaigns.
There are definitely a lot of pros and cons to blogger networks, but they are absolutely worth trying out, especially if you're a beginner blogger.

Even if you're not a beginner blogger, a lot of intermediate to advanced bloggers work with networks to book paid campaigns. It's sometimes easier to land paid campaigns this way, rather than cold-pitching a brand, since they already have a campaign they are casting bloggers and influencers for.
Another pro is it can give you the opportunity to work with major brands you may not have been able to book on your own. I've been able to land collaborations with brands like Olay, McDonald's, CVS Pharmacy, Huggie's, Samsung and many more household names, thanks to blogger networks.
Cons of Joining an Influencer Marketplace
Of course, there can be a few drawbacks to keep in mind. But in my opinion, the benefits to at least trying far outweigh the cons. Primarily they are:
Blogger networks pay less than if you work with a brand directly
There is a middleman involved
The middleman may mean that there is very specific messaging involved in your campaign, a review period of your posts prior to going live and a bit more of a watchful eye over you and the content you create.
In rare cases, you may even be asked to re-shoot if your campaign manager doesn't approve your post. (I've had it happen where a campaign manager has asked for some light photo editing.)
Pros of Using a Blogger Network
For the most part, blogger networks are just plain easy way to start making money working with brands. When you're part of a blogger network you also don't have to worry about things like:
Creating your own contract
Sending out invoices
*Chasing down payments
*Generally speaking. There can be delays, depending on the campaign and situation. There are also ongoing opportunities and a bit less research involved when pitching yourself!
You'll have to apply, and some have certain requirements before being accepted. But you can always try again later as your following grows!
12 Blogging Networks to Join for Sponsored Content Opportunities!
This was one of the very first networks I joined where I started to book a lot of consistent campaigns. Budgets are typically set, based on your reach, but occasionally you'll see campaigns pop up where you can set your own rate. It's primarily for food bloggers, but I do see beauty and lifestyle opps pop up.
To qualify, you need to have an active blog that's at least three months old. There's also a pretty active community with plenty of training on how to create successful sponsored posts.
Activate has opportunities for social-only promos and blog-based campaigns as well. I personally haven't booked a ton with this network but I know it can be lucrative for many bloggers.
This blogging network is similar to Social Fabric in that you'll be able to login and see available campaigns to apply to. Many have a rate set, but many do not!
Linqia is a bit different in that their campaigns are mostly pay per click. In other words, your rate is set by the amount of people who click on your link while your campaign is active.
Some people LOVE this as if you exceed your campaign clicks, your rate gets higher with each campaign.
I have booked a few flat-rate campaigns on this network as well. These campaigns are selected so there aren't open ones to apply to. You'll get an email saying you've qualified for a campaign and will be able to see the terms and then accept from there.
I know so many bloggers that rate Tapinfluence as one of their favorite and most lucrative blogging networks to join!
This is another passive influencer network where you set up your profile and opportunities come to you. Personally, I haven't had much success on this network but my account is there and live for now.
Fohr is an industry leader when it comes to the influencer marketplace. They have a unique algorithm that can verify your following as authentic, and once you connect all of your social accounts, it creates a pretty neat media kit for you.
Fohr campaigns come to you, but they are with great brands and good rates, too. It's definitely worth checking out!
If you're a fashion or beauty blogger, you may want to explore Brandbacker. There are many campaigns there for both paid and free product exchange. It may be a good way to get your feet wet and build relationships with brands.

Massive Sway has both blog-based and social-only campaigns. When you login, you'll be able to see open campaigns to apply to with set rates, which is sometimes public and sometimes not. On occasion, you'll be able to set your own rates.
8. AspireIQ (formerly Revfluence)
AspireIQ has a neat platform where you'll be able to apply to campaigns and communicate directly with brand managers. When you apply, your media kit is sent their way, but you'll also have the opportunity to personalize your pitch. There are many major brands as well as smaller brands as well open to trade opportunities.
If you're a college student, you should definitely check out The InfluenceHer Collective! Although not all campaigns are college-geared, a vast majority are. This network also has some really great educational resources on how to improve your blogging and influence.
Clever has most recently become one of my favorite blogger networks. They have campaigns you apply to and the rates are set, but they are higher than some I've seen on other networks. It can take 1-3 weeks for your application to be approved, so be patient.
Are you a mom blogger? Check out The Mometer! Although I haven't worked on a ton of campaigns on this influencer networks, there are frequent opportunities that get emailed in the way of monthly and seasonal surveys.
Acorn influence will periodically email campaign opportunities that may be a fit, many with major household brands and many kid-focused ones that are great for mom bloggers. The campaign rates are set, but decent.
---
What are some of your favorite blogger and influencer networks? Let me know in the comments below!!