Why I Switched from GoDaddy to Siteground (And Why You Should Too)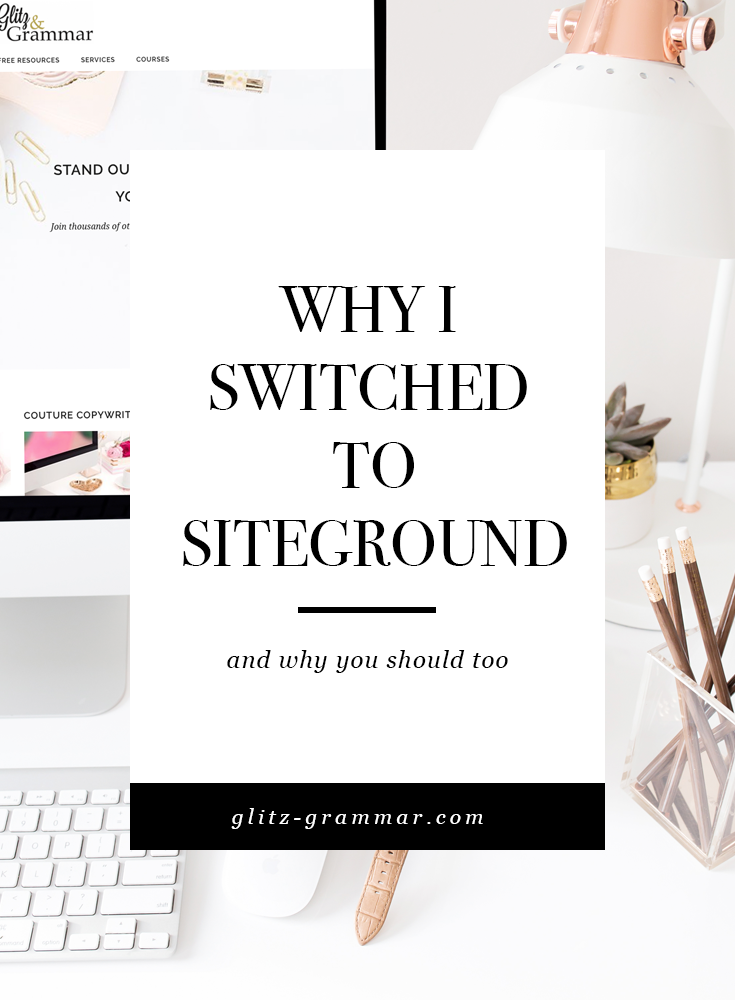 This post may contain affiliate links, which means I will make a commission at no extra cost to you should you make a purchase.
I almost didn't write this post.
In fact, I had something else entirely on my editorial calendar. But, in the spirit of continuing to share my honest experiences with you I realized it would be somewhat of a disservice to not talk about my Siteground hosting experience.
Because it's been one of the best moves I've made this year! And while I don't always get techy on this blog, the tech stuff is totally necessary.
If you're new to blogging….
Hosting is where you start your self-hosted WordPress site. It's basically the plot of land that will house your home. (If you haven't started your blog yet, check out this step-by-step tutorial here.)
I started my very first blog many moons ago and, like many bloggers, purchased my domain andhosting through GoDaddy.
In fact, I am a GoDaddy affiliate and still recommend some of their products. They are the cheapest for domain names and have been around forever!
But, I started to get curious about other hosting providers. I have always been of the "If it ain't broke, don't fix it" mindset so never had a problem, per se, but wondered if the grass was greener on the other side.
How I Was Duped on WordPress Hosting
I have read thousands of blogs that promote a certain web host. Sooooooooo many have the start a blog tutorials (I have one here, as well) and promote the heck out of this company.
I thought, this must be good. And I started to question the service I was getting over at Godaddy.
This is what prompted my very first questions about whether or not my hosting was good enough.
So I figured if everyone was singing this company praises it must be good. And I bought a hosting plan there.
It was an instant mistake.
This is not meant to bash other bloggers or how they make money blogging.
We all make money blogging through a variety of ways (see here for several ideas) and one of them is through affiliate links, like recommending hosting companies!
Yes, I'll get a small commission for recommending Siteground to you. But I would never, ever promote something that I didn't 100% recommend and genuinely think is good.
RELATED: The Best Tools for Bloggers and Creative Entrepreneurs
Unfortunately, not everyone is the same way. When I bought my new hosting, two things happened:
I experienced vile customer service.
I discovered their fantastic affiliate commission rates.
I never even switched my hosting plan over. No one would help me!
I called into support several times and the experience was just nasty.
The affiliate commission structure, however, was quite generous. Which made it simple for me to see why SO many bloggers were promoting them. I was duped.
My Siteground Hosting Experience
This did not make me want to switch my hosting, but I began experiencing consistent problems over on my web host and kept feeling frustrated.
My website was slow, I would constantly have weird errors and even upon upgrading to their highest paid plan, I just wasn't happy.
Their customer service was always great. But again, I felt the tug at wanting to try something else.
So I made the decision to switch to Siteground. It was a VERY scary decision.
But, I noticed an IMMEDIATE difference in my site speed.
Switching to Siteground was seamless and easy. Their customer service was incredibly helpful.
In fact, they have a totally free site migrator tool plugin that you can use to migrate your site.
If you have more than one website, like I did, they'll import a website for you for a very small fee.
Why You Should Consider Switching to Siteground
The #1 reason I switched to Siteground hosting is because it is the #1 recommended hosting provider by WordPress.
You guys, endorsed by WordPress is huge! I mean, that says something, right?
Just like Tailwind is the official Pinterest partner, WordPress and Siteground are buddies. I like this.
Siteground hosting came up in multiple blogging groups I am in on FB as the fastest provider.
For those of you that don't know better site speed=better user experience and an increase in ranking. Google wants your website to be fast!
Also, it's cheap. Like, less than a cup of coffee per month. Yay for saving money!
My Traffic Increased When I Switched to Siteground
My traffic since switching to Siteground has gone up, and my speed has improved tremendously.
During the setup process, the team was extremely helpful and walked me through how to do certain things and even troubleshooting things for me was painless and QUICK.
Siteground also has a built-in plugin to help with Caching and site speed. They also have FREE SSL certificates!
This was another huge bonus for me as Google now really, really wants all sites to have their SSL certificates. This came with my hosting package and was also installed and activated free. (Your SSL tells visitors your site is secured and adds the https:// in front of your domain.)
Even More Siteground Bonuses
Siteground also has CDN Integration with Cloudflare. And it's free. CDN (content delivery network) is another tool that helps your site load faster.
Sound complicated? It's one-click activation. Doesn't get much easier than that!
Email plans are also free of charge while the other hosting provider I was with had a hefty annual fee for this.
Feeling More Secure with Siteground
I spent years on Godaddy and have only been with Siteground a few months, but so far it has been a very positive experience and I feel confident that my website is in good hands.
The latter is so important; we work so hard to build our online businesses, we have to make sure the fundamentals are taken care of!
Siteground backs up my website daily so I know I'm taken care of. And I haven't experienced any of the errors I was getting previously.
---
Like this Post? Pin me, please!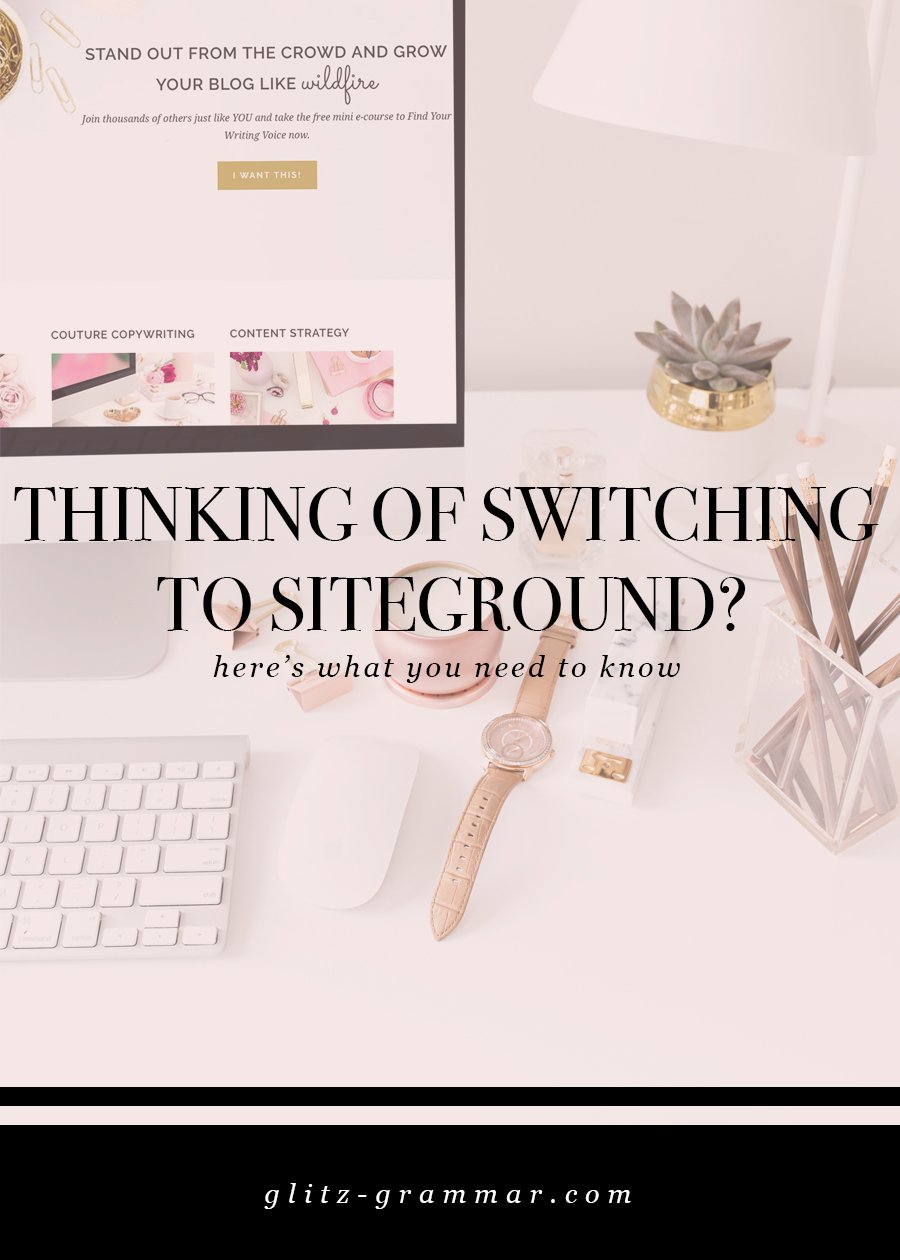 I hope this review helps you in your decision making if you're looking to get WordPress hosting or start a blog.
Any questions? Let me know in the comments below!