The 6 Pinterest Tools You Absolutely Need
This post may contain affiliate links, which means I will make a commission at no extra cost to you should you make a purchase.
Pinterest is a powerhouse, friends. Last week, we talked about how to start your Pinterest business account (and why). So this week, I thought I'd share some of the best Pinterest tools for your business.
Right now, my personal Pinterest account is seeing upwards of 2 million monthly viewers!
And for both of my websites, Pinterest is the #1 referrer of traffic.
I love Pinterest and you should too. But I wouldn't be able to do it without these 5 tools.
6 Best Pinterest Tools to Try
Tailwind for Scheduling Pins
If you are going to make any social media investment for your business, let it be Tailwind.
Tailwind lets me easily schedule hundreds of pins once a month or once a week so I'm not spending hours on Pinterest!

Right now, the recommendation is to pin about 20-30 pins per day. But who has the time to log in and schedule 20-30 pins per day?
That's where Tailwind comes in. You can tackle this task once a week or once per month. There's built-in analytics to see how you are doing and Tailwind will automatically create a schedule for you based on the best times to pin, so you don't have to worry about that at all!
I use the Tailwind extension on Safari or Google Chrome to easily pin from my website, schedule within Pinterest or anywhere else that I'm online and see something pin-worthy.
The best feature, of course, is Tailwind Tribes. While Group Boards haven't been as active as of late (and some people are saying they may be becoming useless) Tribes are not.
Tribes are groups of like-minded people on Tailwind where you agree to pin each other's pins. Each tribe has its own set or rules. For example, some say no affiliate pins and vertical pins only. Most require at least 1 re-pin for each one you submit, which is great since this ups the chances your pins will be circulated to an even wider audience!
Sound overwhelming? Tailwind has a ton of free videos and walkthroughs to get you going. It is the #1 tool I recommend to grow your business account!
Start a free Tailwind trial here.
Haute Stock for Beautiful Photos
So you know you need beautiful pins, but where do you get all of the images from? Right now, one of my top sources is Haute Stock.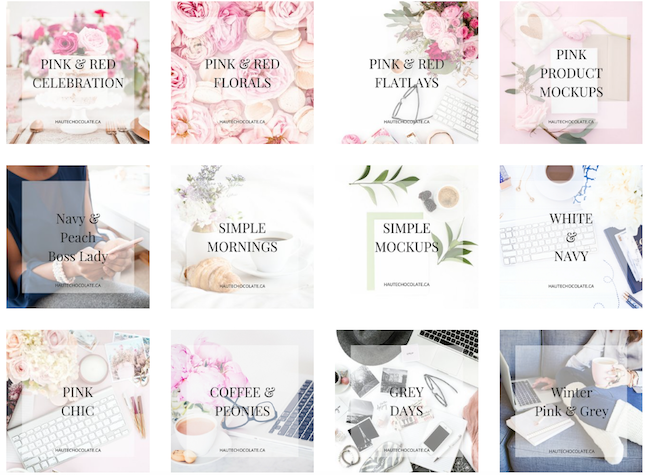 This gorgeous membership site is full of beautiful stock photos you can use for your pins, blog post images and social media graphics. The monthly membership is super affordable and you can even sort through the library by category or color!
RELATED: The Best Free Feminine Stock Photo Sites
Some of my other favorite stock photo subscription sites include:
Creative Market for Pinterest Graphics
Speaking of Pinterest graphics…don't re-create the wheel each time. Instead, invest in a set of beautiful graphics that are on-brand and that you can re-use again and again.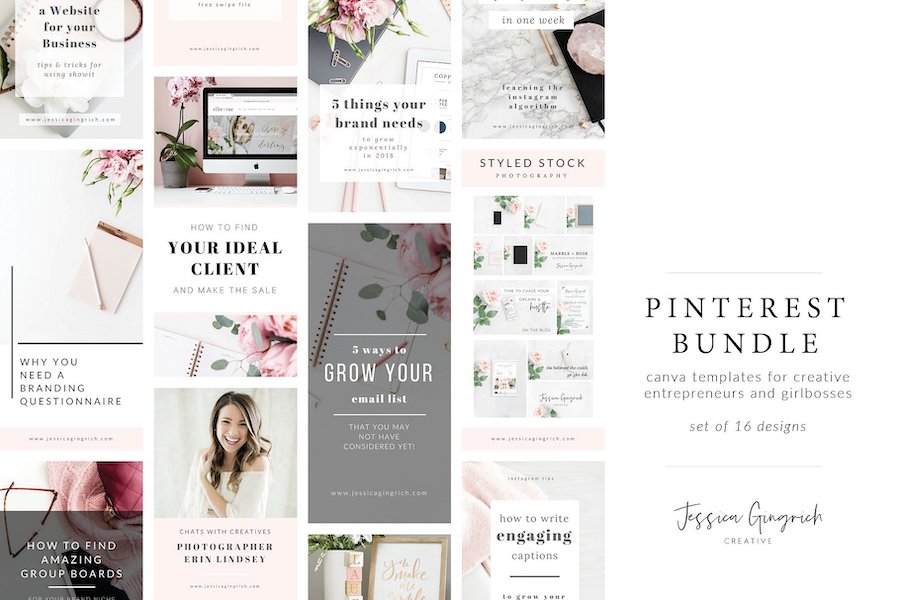 Bluchic has some gorgeous Canva graphics for social media I highly recommend. But if you're not a Canva user you can also browse Creative Market for Pinterest graphics.
Adobe or Canva Subscription to Create Pins
Now that you've got gorgeous photos and graphics, you need to go about actually creating your pins! There are two tools I recommend for this, depending on your comfort level and preference.
I personally use and have an Adobe Photoshop subscription which I use to create all of my pins. It also comes with Lightroom where I can edit all of my images and allows me to use presets for Instagram.
For me, this is the easiest tool to use since I use Photoshop for a lot of other projects and Lightroom for photo editing.
Canva is a very user-friendly tool that you can use to create your pins, social media graphics, worksheets and more. If the Adobe suite feels overwhelming, Canva is a fantastic place to start.
What's more…it's free! When you upgrade to the pro version you can save your brand's colors and upload custom fonts and much more. You can also easily re-size images for use across multiple platforms.
I recently created some Pinterest graphics within Canva, and instead of re-creating the wheel, I re-sized them for FB ad graphics with the click of a button. It was super easy and just took a few clicks! Check out Canva here.
RELATED: The Ultimate List of Blog Tools I Use
Tasty Pins to Upload Multiple Pins
I've recently started using the Tasty Pins plugin and you guys, this one is a game-changer!
Tasty Pins lets you easily upload multiple pins per post + create Pinterest-friendly descriptions for ALL of your graphics.
This means you no longer have to use html code to hide your pin graphic options, and you can use the alt text for what it's actually meant for, alt text.
It also means that when someone is on your website and they pin something from your post, the description, keywords and hashtags are already there because you optimized them!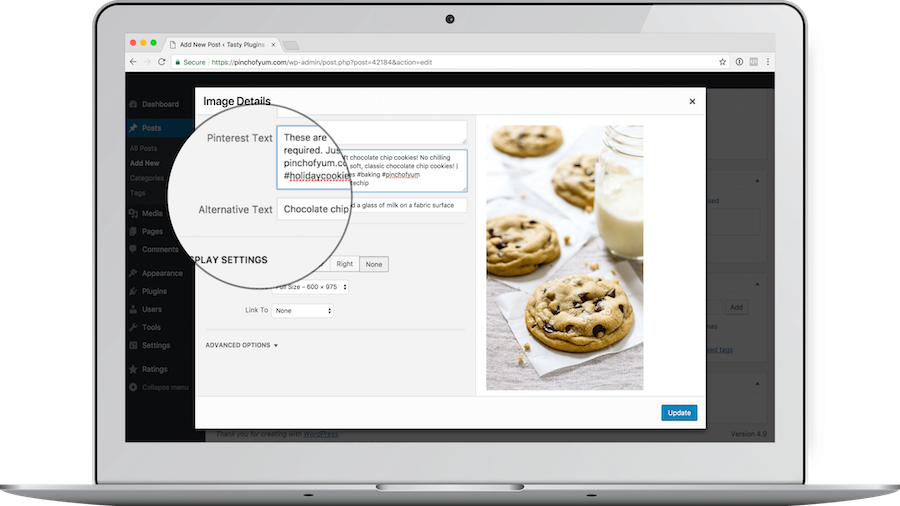 This is HUGE for traffic, guys. There's not point in creating pins at all, let alone multiple pins, if they get pinned without a description or a keyword-optimized description that will lead people back to your post.
At under $30, it's easily one of the best blog investments I've made.
A few other things you can do with Tasty Pins:
Hide certain images so they don't get pinned
Force a pinner to pin a certain image first
Add a hover button to all images
Get Tasty Pins here.
Milotree to Grow Followers
O.k. guys, now that we've covered how to schedule your pins and everything you need to create them, how do you go about growing your following on Pinterest?!
One of my favorite Pinterest tools to grow your following is Milotree. It's a very small pop-up box that's just $9/month that will recommend someone to follow your social accounts.
In fact, it's not just for Pinterest. Milotree will let you suggest your Facebook profile, Instagram account or even your email list. It's completely up to you what you want to show first, and in what order.
Milotree is easy to configure—you'll be up in minutes—and comes with a free 30-day trial! Click here to start your trial now.
Like this post? Pin me, please!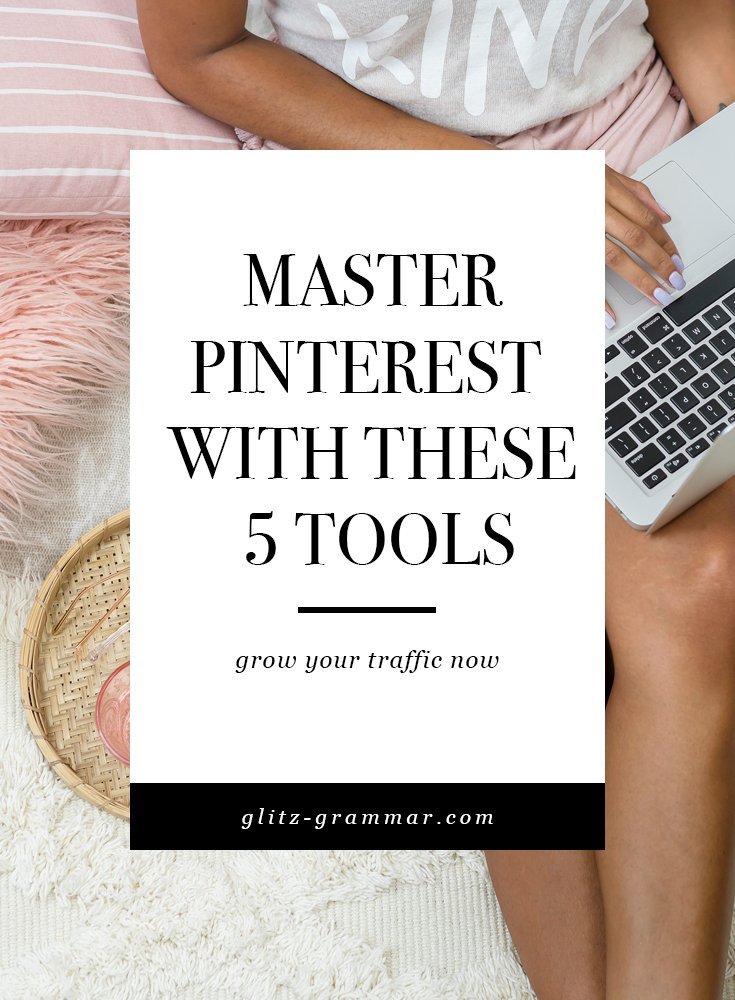 ---
Growing your Pinterest is pretty easy once you've got the right Pinterest tools and a schedule in place! Start with Tailwind at the very minimum, and then get going with pretty photos, a set of graphics, an Adobe or Canva subscription and Milotree to help you grow your following.
What are some of your favorite Pinterest tools?