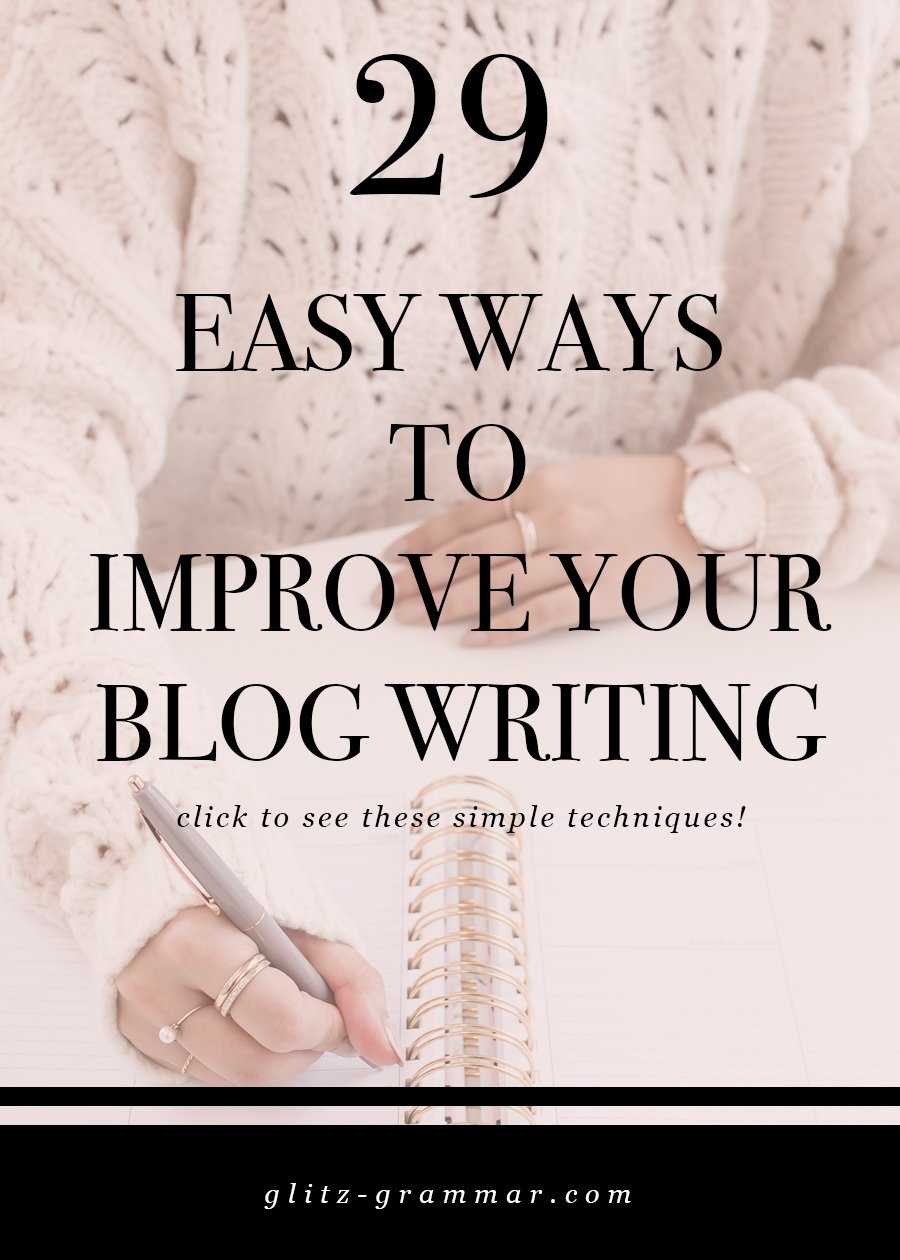 They say writing is an art. But like most anything, the more you do it, the better you'll get!
I shudder at some of my writing from the beginning of my career, and I'm sure that 10 years from now I'll shudder at this, too!
The good news is, all you have to do to improve your writing is to keep on writing. And if you want to get better ASAP, try these writing tips below.
29 Easy Ways to Improve Your Writing Skills
1. Read
To be a good writer, you must be a good reader. And by that, I mean devouring all types of content.
Whether it's blogs, magazines, reports, fiction or non-fiction books, the more you read the more you will absorb all things writing.
To get the most out of this, seek out a variety of writing. Satires, educational articles, newsy stuff and, of course, plenty of blogs!
2. Write
Sometimes we get too busy devouring content and not actually producing any of it. This is a big NO!
To really improve your writing, you must write, write, write.
Try free-hand writing first-thing in the morning in a journal, or even fiction writing. You can practice by writing your blog posts, emails, really anything. The key is to just keep writing.
3. Outline
Writing large pieces of content can feel overwhelming, so take the time to do an outline to help create some structure.
I usually create an outline for longer blog posts that includes proposed sub-heads and a title. Then when I sit down to write, all I have to do is fill in the rest of the content.
RELATED: How to Write the Perfect Blog Post
4. Edit, Edit, Edit
Want to know the secret sauce to truly becoming a better writer? The magic happens in the editing process.
Edit your pieces ruthlessly and look for clarity, grammar, punctuation and eliminate fluff.
When it comes to grammar, I use the free tool Grammarly to proofread my work.
Here are a few other quick editing tips:
Be mindful of exclamation points, don't overuse them.
Be clear yet succinct. Wordiness does not win.
Watch out for repetitiveness
Read your work aloud to make sure it flows and makes sense.
5. Record Yourself Talking
If you're somewhat new to writing, you may feel like you need to find your writing voice (I have a free e-course to help you do just that! Sign up here). One way to do so is to record yourself talking.
Listen to the phrases that you use and your casual language, does it match up with your writing? How can you incorporate the way you talk into your writing?
If you need a voice recording tool, try Temi which will transcribe your notes for you!
6. Try Writing Exercises
Flexing your writing muscles is just like working out; it's a good idea to try a few things to improve overall. Try some daily or weekly writing exercises to help flex those muscles.
If you're looking for a book, try The 3 A.M. Epiphany. Its' geared toward fiction writers but anyone can benefit.
You can also check out this post on Writing Exercises for Bloggers.
7. Join a Writing Group
Looking to write a novel? Try NaNoWriMo which offers camps and online networking, too.
There are also community writing groups you can join where you can meet up IRL and connect with other writers.
8. Take a Writing Class
Looking to really improve your writing skills? Maybe it's time to enroll in a writing class! You can seek one out at your local community college or, sign up for the waiting list on my Writing for Bloggers e-Course and be the first to know when it launches!
RELATED: How to Find Your Writing Voice
9. Try Another Creative Outlet
Writing is an art and creative pursuit, but sometimes we get writer's block and that's totally normal. Take a break and try something else creative like painting or coloring. Yes, even if it isn't your thing! Challenging your brain is a great way to relieve stress and get those creative juices flowing again.
10. Kill Your Adverbs
Want a glaringly simple trip to quickly improve your writing? Kill those unnecessary adverbs.
Did you notice how they were overused in that first sentence? That was intentional to point out that more often than not, we just don't need them!
Comb through your writing when you're editing and see what adverbs you can do without.
Then, bid them goodbye! No need to second guess, just do it.
11. Choose Active Over Passive
If you aren't the best at choosing an active voice over passive, this is another area where Grammarly excels! The free editing tool will highlight passive text and encourage you to use the active voice instead.
12. Ditch The Jargon
Jargon doesn't make you sound smarter, period. It's not relatable and often fussy.
Instead, use real words. Simple is often best when it comes to writing that resonates.
RELATED: 3 Ways You're Overthinking Your Writing (And How to Fix It)
13. Use a Thesaurus
If you're using the same words over and over again, consult a thesaurus. Thesaurus.com is my go-to when I'm looking for a bit of variety and feeling stuck.
14. Use a Thesaurus Sparingly
But, don't use the thesaurus too much! It'll make your writing sound unnatural.
15. Turn on The Radio
Just like reading more will help improve your writing, listening does, too. Turn on the radio and listen to people chat on a podcast, or just turn up the music to help get inspired.
16. Print Out Your Work
One of my final steps in the editing process is to print out my work to read it on paper. For whatever reason, this makes a huge difference and will help you spot even more areas that can be improved!
17. Be Short and Sweet
And to the point. Don't write on and on just for the sake of filling up word count, get to the point so you don't lose your readers.
18. Don't Imitate
When you fall in love with someone's writing voice, it can be so tempting to try to recreate that!
The problem is, it's inauthentic and not really sustainable. This is why it's so important to find your writing voice and just be yourself.
19. Keep a Journal
Journal writing is a great habit to start for all Creatives. It doesn't have to be something structured; free-writing is just as powerful as writing exercises
I like the Day One app for digital journaling, but a paper journal works, too!
20. Free Write
Speaking of paper journals, these are great for free writing. Which will absolutely help you become a better blog writer.
RELATED: 3 Ways to Shake Up Your Writing
21. Quote an Expert
An easy way to beef up your content is to rope in an expert for a quote. Not sure how to do this? You can find experts on LinkedIn or on social networks and simply email them asking them for a quote for the story you're working on.
You can also use HARO which is a network that will email subscribers (experts) who are waiting for opportunities to respond to. This also is a great technique for creating more authoritative content.
22. Include Statistics
And speaking of authoritative content, research-backed statistics are another great way to produce great pieces of content.
Be sure when you're sourcing your facts that you are citing them (you can link out) and choosing reputable sources.
HINT: Crazynewsfacts.org is not a reputable source but CNN.com is.
23. Know the Topic Inside Out
The more you know about a subject the more value you can share with your reader so know your topic inside and out!
24. Dig Deep, Offer Value
Rather than just sticking to surface topics, try to dig deep and really offer value to your readers. Be the one-stop solution that answers all of the questions on the topic and you'll see your subscriber count go up.
25. Describe the Setting
If you're wanting to harness some storytelling tools, describing the setting is one of the easiest techniques there is.
Using imagery like this transports the reader and will immerse them in your story. And yes, this works for blog writing!
26. Show, Don't Tell
This basic writing rule can apply to all types of writing!
TELL: Angie was sadSHOW: Angie went straight to her room, turned off the lights and hid under the covers. It was only then that she finally allowed the tears to stream down her face.
27. Create Vivid Imagery
Imagery is a great way to engross the reader in your story. And yes, this can apply to blog post writing too!
How can you use this with blog writing? Try weaving in a personal story if appropriate or use some vivid details to bring your post to life.
28. Be Passionate
Passion is contagious–and it can be felt through writing!
When you're excited and passionate about something, people can tell and it makes for some really great writing.
29. Be Yourself
Break the rules and just be yourself! There's no one else like you so this is one of your most powerful assets when it comes to writing.
What are your favorite tips for improving your writing?
Like this post? Pin me, please!