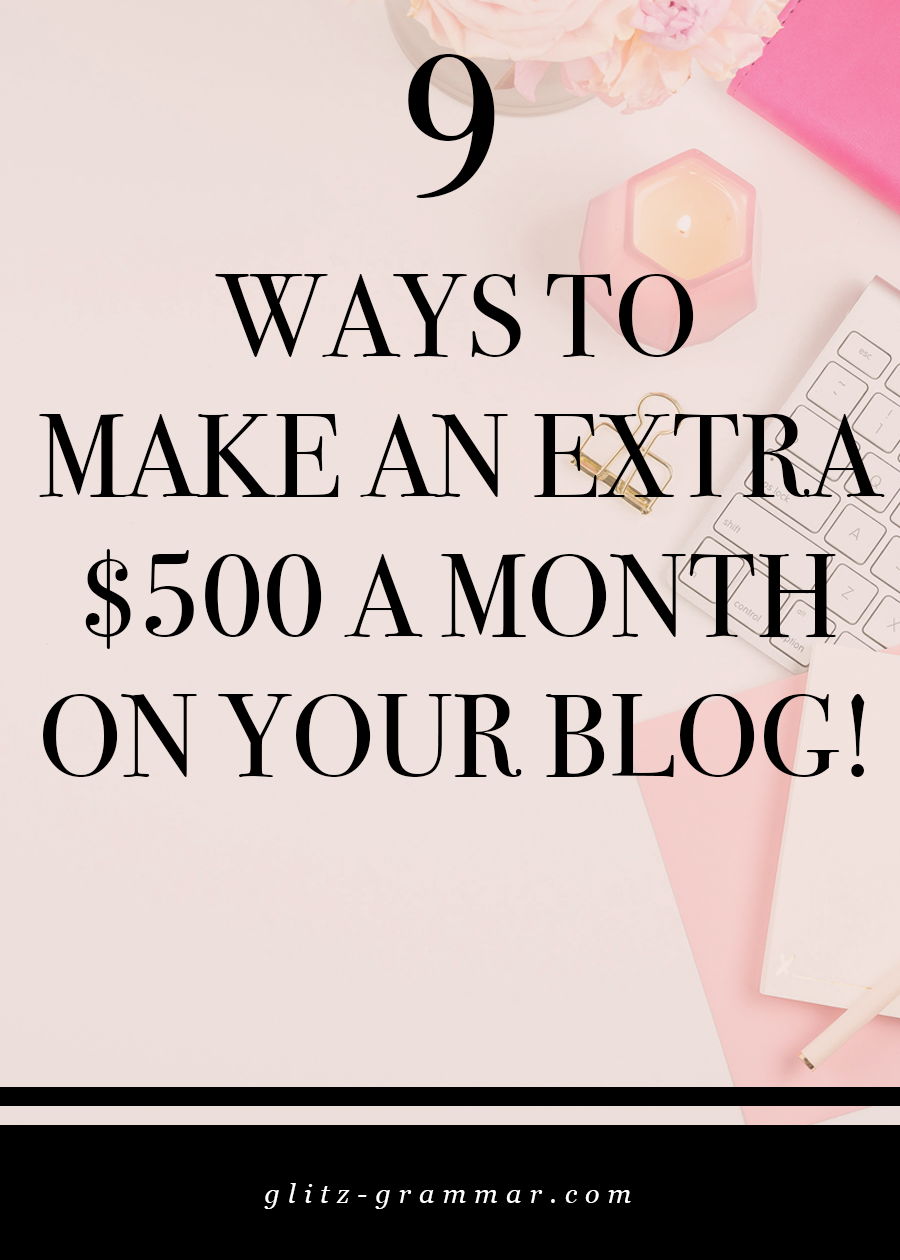 Looking to bump up your blog revenue? Who isn't! So today, I've got several ideas for you on how you can make an extra $500 a month on your blog.
If you haven't started your blog yet, check out this easy step-by-step tutorial here. In the beginning stages? Start yourself off on the right foot with this guide to choosing a blog niche.
Hopefully, these ideas get your wheels turning, and your bank account, too! Here's, how to make an extra $500 a month on your blog.
1. Create a Money-Making Opt-In
An opt-in is a fabulous way to grow your email list. It's simply a freebie that people sign up for in exchange for their email address.
A great opt-in solves your reader's problem. So if someone is reading your post to learn how to create a social media strategy, a relevant opt-in that solves their problem may be a social media calendar template. You can easily create and manage your opt-ins with email providers like ConvertKit (my personal favorite) or Mailerlite.
So how can you make an extra $500 a month with an opt-in? It's actually easier than you think! Simply create an opt-in that takes advantage of your affiliate links.
Here are a few examples to help you brainstorm:
Create an opt-in with your favorite resources, then use affiliate links for those products. This can apply to just about any niche!
Create an opt-in with the top beauty trends of the season and link to your favorite items.
If you're a mommy blogger, you could create a free baby registry checklist and use affiliate links that go to the top recommended products.
Each of these examples gives the reader something they need, yet also is a money-making opportunity for you.
To amplify your revenue here, consider creating an opt-in series. This could be a 5-day challenge or e-course that's dripped out over a few days. Each day would feature an actionable tip for the reader, that also happens to include some of your affiliate links.
A fashion blogger, for example, could create a free capsule wardrobe challenge with a new lesson that comes out daily. And in each of those emails, you could link to the recommended item to complete the capsule wardrobe.
One word of caution:
Be sure to check your terms with your affiliate program to be sure you can send links via email. Amazon Affiliates, for example, doesn't allow you to send out links via email.
You also need to properly disclose, per FTC guidelines. So make sure you are letting readers know you are using affiliate links!
RELATED: How to Make Money Blogging

2. Create a Resources Page On Your Blog
Whether you blog about fashion, beauty, motherhood, travel or own your own shop, there are surely tools and resources that you use and recommend. A great way to make an extra $500 a month is to create a tab on your website dedicated to these resources!
This type of revenue-stream is a win-win; people love to see what tools and resources others recommend, and this is likely a place you can fill with products or services you get frequently asked about.
It's also a place where you can use your affiliate links to the places you recommend and partner with.
You can check out my favorite blogging resources page to get an idea:
Once you've created your Resources page, remember to add a link to the top navigation menu of your blog. Here's how to do that in WordPress:
Navigate to Appearance> Menus
On the left side you'll see "Add menu items" select the page and click "Add to Menu"
Click on "Save Menu" and your page will now be linked on your menu!
Here's another great example from MacKayla at Motivation for Mom :
She calls her Resources page "Recommendations" but it's also filled with her top-recommended tools that are helpful to her readers, but also contains affiliate links.
RELATED: The Best Blog Tools & Resources for Bloggers
3. Offer Freelance Writing Services
If you've started a blog, you're likely a decent writer. And that's a skill you can definitely market and sell to make an extra $500 a month.
In fact, before I was a full-time blogger and entrepreneur, I was a freelance writer and magazine editor. So while my tips to becoming a freelance writer could become an entire other blog, I'll do my best to give you a few quick ones right here.
Research and pitch yourself to online outlets. Many have a "Writer's Guidelines" or "Write for Us" page on their website around the contact form.
Stay away from content mills. Upwork, Fiverr, etc. will pay very low. You already have writing clips—your blog!
Network in Facebook groups; these can be a goldmine for leads and people are always looking for freelance writers!
Think local. Reach out to your local magazines, newspapers and local blogs and see if they need a freelance writer.
PRO TIP:
When you reach out, make sure you have a clear story idea in mind. Don't just say "Hey, do you need any writers?" That's a quick way to get an instant delete from an editor. Instead, write a thoughtful pitch letter on what you want to write about, why it's perfect for the publication and why you're the perfect person to write it.
Not feeling confident about your writing chops? Get on the waiting list for my writing for bloggers course here.
4. Sell Sponsored Content on Your Blog
Partnering with brands can be a really lucrative way to monetize your blog. And it can definitely help you make that extra $500 a month!
In fact, for my fashion and lifestyle blog, one of my biggest revenue drivers is sponsored content. I don't even do display ads there! That's just to show you there are a lot of ways to monetize your blog, and what works is different for every one and every niche.
There are many ways you can land partnerships with brands to create original content, but one of the easiest ways to get started is through influencer/blogger networks. These are marketplaces you can join with partnership opportunities that you either A. apply for or B. get chosen for.
RELATED: 12 Blogger Networks to Join to Make Money Blogging
To get started, check out my post on blogger networks to join. And you can always book a 1:1 session with me if you're wanting to learn more about ways you can grow and monetize your blog!
5. Offer Freelance Services
If you're not looking to get into freelance writing, there are many other freelance services you can offer with your blogging skills.
Social media services, graphic design, editing, tech help, proofreading and even VA services are just a few of the things you could try to make an extra $500 a month.
This can be as simple as adding a new "Services" page to your already existing blog and creating a banner ad for yourself to advertise your new services!
You could also send an email out to your network, post on your social networks and start advertising in Facebook groups you're a part of.
6. Create a Digital Product
Are you a Lightroom whiz? You could create a preset and sell it! Are you a great graphic designer? You could create planners and printables and sell them on your website, or even on Etsy.
Creating a digital product is a great revenue stream for any blogger, and one you should consider at some point in time as diversifying your income is the key to make money blogging.
You could also write your own e-book or create an e-course that capitalizes on your expertise. Here are a few ideas to try:
Fashion bloggers could sell an e-book on creating a capsule wardrobe
Mommy bloggers could create a course on potty training baby
Are you a shop owner?
There are still opportunities here, too! An interior designer could create a course on creating the perfect color palette; and a boutique owner could create an e-book with expert styling tips from a professional. Really, the sky is the limit here and the possibility to make at least an extra $500 a month is definitely there.
7. Take Online Surveys
I haven't personally tried this yet, but there are so many bloggers I know and mamas who make an extra $500 a month by sitting at home and simply taking online surveys!
This is one of those, easy-to-do-while-watching-Netflix things, to bump up your revenue. Here are a few survey companies you can try:
Swagbucks
Survey Junkie
Pinecone Research
Harris Poll Online
American Consumer Opinion
As I mentioned, I haven't personally tried those out yet but one company I do use is eBates (now Rakuten). You can get $10 now just by using my link.
I have the extension installed on my browser and whenever I shop, I just click the button and it automatically gives me cash back on my purchases. Yes, CASH for shopping at Target, Walmart, etc. It works at over 2,500 stores and is a fun way to get a little extra cash in your pocket!
8. Create a Tripwire
If you're into the idea of creating a digital product, you may also be thinking about creating a Tripwire, which can be a great way to make an extra $500 a month.
A tripwire is a limited-time offer that shows up after someone completes your opt-in.
Let's say that someone wants to download your capsule wardrobe freebie, your Tripwire could pop-up after that person opts in with a limited-time offer to "upgrade" and get the full book/planner/whatever it is that you're selling. But it's only for a limited time (typically with a countdown timer) and at a HUGE discount.
These can be really lucrative, as they're typically at a "yes" price and a great way to bring in some extra income!
9. Start Using Pinterest for Affiliate Links
Are you using Pinterest for your affiliate links? I bet a lot of you aren't! (If you aren't set up on Pinterest for Business yet, read this guide first.)
Pinterest is great at driving traffic to your blog and is the #1 driver of traffic to BOTH of my websites. But you could also use Pinterest without a blog.
Yes, you can make money on Pinterest without a blog.
How? Simply pinning your affiliate links. Found a planner that you love? Pin it, and replace the direct link with your affiliate link, instead.
Just be sure to use proper FTC disclosure and mention that it's an affiliate link in your description.
Like this Post? Pin me, please!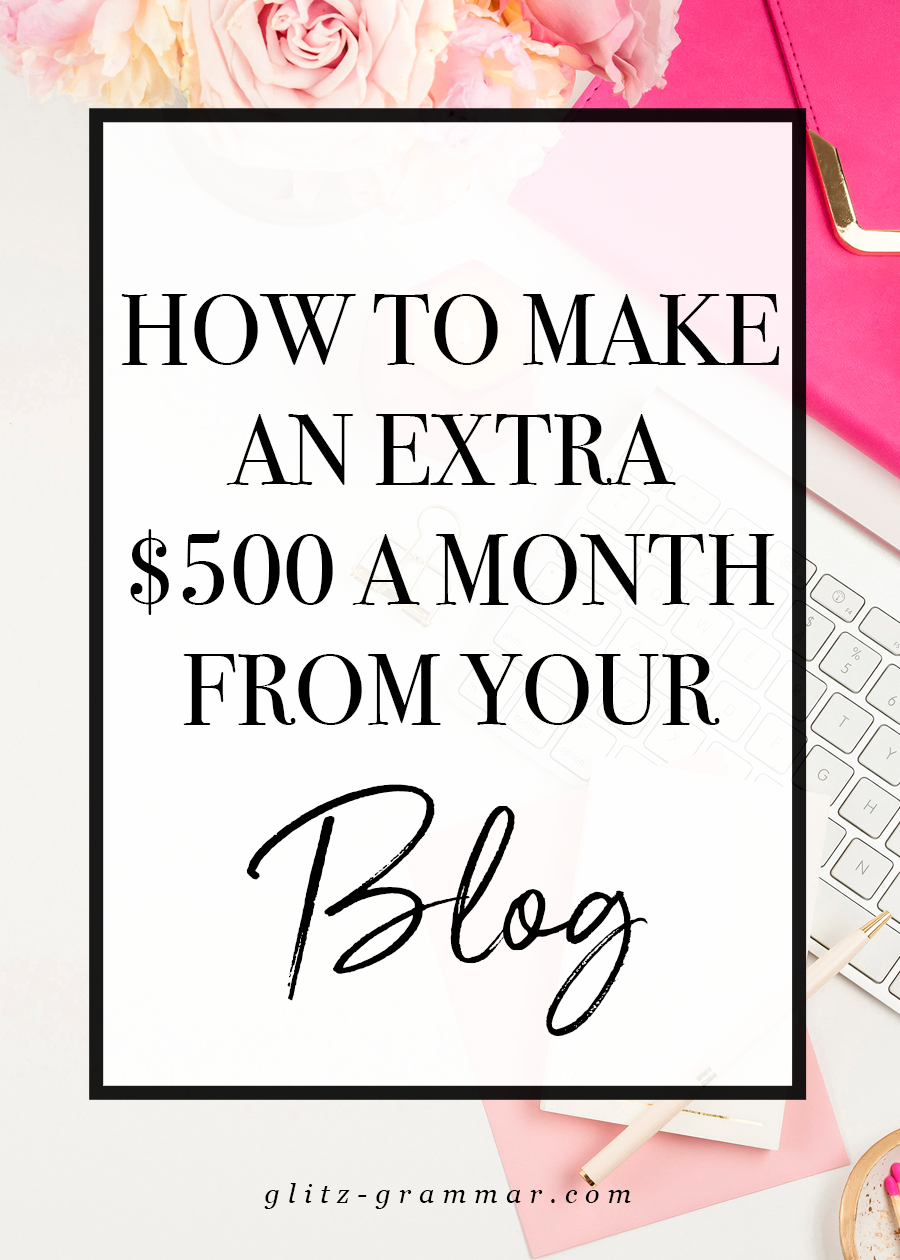 ---
O.K., phew, that sure was a long list. What are some of your favorite ways to make an extra $500 a month on your blog? I'd love to hear them; please leave a comment below!!