I could probably fill an entire book with the mistakes I've made blogging. In fact, it's been the start of many a blog post, which I've then ended up scrapping because the list is just SO long! We all make mistakes, and one of the best ways to learn is by making mistakes. But these 5 mistakes beginning bloggers make are some of the most common I've seen–and so easy to fix!
Don't fall into the same trap and avoid these mistakes most beginning bloggers make.
5 Mistakes Beginning Bloggers Make
Overlooking visual branding
Visual branding is KEY, my friends. And it's something you should think about from the get-go. If you aren't working with a graphic designer, you can still create your own branding guidelines. (Check out this post on DIY visual branding.)
This doesn't have to be complicated: Simply pick a few colors and fonts you'll use throughout your site and DO NOT CHANGE THEM. I repeat, do not change every 5 minutes when something new, cute and trendy pops up. It's so tempting to jump from one thing to the next, but brands are built on consistency and recognizability. The best way to do this is to be consistent with your own brand.
If you're not sure where to start, you can buy pre-made blog kits which are perfectly pretty and come with everything you need to brand your own blog. I've purchased blog kits in the past from Etsy and Creative Market.

Next, I suggest investing in pre-made blog templates so you can easily re-create Pinterest-friendly headers for all of your blog posts. You can find some for free online, but you can also buy your own kits on Etsy or Creative Market and many are less than $15! It's well worth it and will make your life so much easier. For more of my favorite blogging resources, check out this post.
Not building a list
Do you have a blog? Great! Do you have an email list you're building? Your answer better be a resounding "yes!". I don't care if it's just your mom, your neighbor and your chihuahua that are currently reading your blog, building a list from the beginning is crazy important.
An email list is someone literally giving you a direct line to them, and that is so valuable. You may not own the hosting site your website is on, but you DO own your email list.
There are a million ways to build an email list, which could easily make its own blog post. But for a start, you can check out my Pinterest board here which is full of great list-building ideas.
The No. 1 tool I use to build my email list is ConvertKit, which allows me to easily create opt-ins (the bait or "bonus" people get for signing up to my list) and offer them to potential readers. I highly recommend this service as it's crazy-easy to use and built for bloggers. The only caveat is it is expensive to start out. You can also use Mailchimp and a combination of other pop-ups to create your opt-ins.
Not posting high quality photos
Photos matter. A LOT. Text-only is reserved for books; a blog needs high-quality photos and high-quality content. This can seem really, really daunting if you're not a photographer, so I have a few tips for you.
Invest in a camera. It is absolutely worth the investment to try and learn this skill if you are a lifestyle blogger. I shoot with a Canon Rebel DSLR and a 50mm lens. Important note: The lens makes ALL the difference, friends. When I got a new lens, my photos changed dramatically. I also recommend a tripod and this remote timer, which is less than $10!
Make sure your photos are the same size. It's easier to scan a post when everything looks streamlined and cohesive, that means that all of your photos should be the same width, roughly as large as your content.
Stock up on stock photos. I wish I knew about beautiful stock photos before, they are an absolute game-changer! There are so many places to get beautiful stock photos online, both paid and unpaid, that there's hardly an excuse to not have pretty pictures anymore. Please remember: Getting a photo from Getty or Shutterstock and citing them as a source is NOT legal. You do need to purchase from these sites. Here are a few of my favorite feminine stock photo sites:
Sneak Peek at the Haute Chocolate Library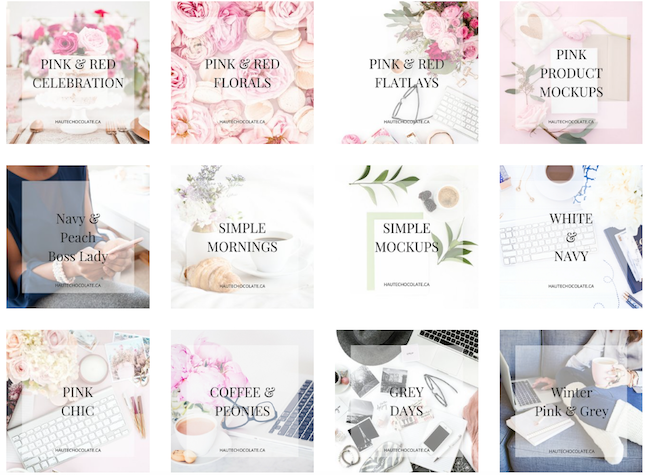 Not having a defined focus
When you first start blogging, it can be a lot of "I want to write about EVERYTHING, weeee!!!!!!"
Reign in the excitement, friends. It's really important you have a defined focus and figure out what you're writing about, why and who you are helping. Getting as specific as possible is what will separate your blog from the masses. For example:
"I have a fashion blog"
is not the same as
"I have a fashion blog geared toward millennial women who want tips on how to shop on a budget"
When you're trying to appeal to the masses, you end up appealing to no one. If you need more help with finding your focus, download this free worksheet here.
Not monetizing
Some people may disagree with me on this, but I see no reason you shouldn't start monetizing your blog from day one. Yes, many experts will say to build a following first, but then you'd have to possibly go back to old posts to start monetizing those.Or, risk turning off your audience that has been following you ad-free.
You don't want to throw up a brand new blog and splatter a bunch of meaningless banner ads on it. But you can sign up with a few affiliate programs to start monetizing products you recommend. You do need a self-hosted blog to do this, if you don't have one check out this step-by-step guide here.
A few networks to check out:
Like this post? Pin me!
---
There is a lot to learn and do when starting a blog, but you can start your blog off on the right foot by avoiding these common blogging mistakes. Define your audience, start building that list, invest in high-quality photos and start monetizing right away!